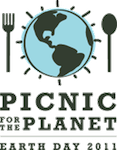 This Earth Day, take the planet out to lunch! We're planning on sunshine here in Puget Sound!
"Picnic for the Planet is a celebration of the planet we live on, the food it provides and the people we share it with," explained Andrew Simpson, The Nature Conservancy's creative director. "The planet does a lot for us— we should take it out for lunch."
For The Nature Conservancy, Picnic for the Planet will break new ground. "Strategically, this is a new approach for us," explained Geof Rochester, The Nature Conservancy's chief marketing officer. "We're trying to open up, meet people where they are and explore new ways of illustrating the positive impact a healthy environment makes on all our lives."
Picnic for the Planet will be a global celebration, with events scheduled on nearly every continent. Through its online hub, the Conservancy will be mapping picnic locations and gathering photos and video from as many picnics as possible. Those interested in sharing images, videos and stories from their picnics are encouraged to use the tag "#picnic11" on Twitter, Facebook, Flickr and/or YouTube. Highlights will be featured on the Conservancy's website.
To learn more about Picnic for the Planet, please visit nature.org/earthday.