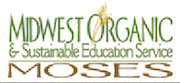 The 2011 MOSES Organic Farming Conference was held this year in La Crosse, Wisconsin, February 24-26, 2011. Our contributor, Drue Fergison of Ralph's Pretty Good Dairy, Money Creek, MN, fills us in on some of the highlights of the event she and her husband, Ralph Zerbe, attended.
Those of us who live in the spectacular Bluff Country of southeast Minnesota and southwest Wisconsin are doubly blessed:  not only do we live in an area that is both literally and figuratively central to the U.S. "food revolution," but we also host the Midwest Organic and Sustainable Education Service (MOSES) Organic Farming Conference in La Crosse, WI.  The conference is held annually at the end of February.  This year, nearly 3,000 attendees came from across the United States, Latin America, Haiti, England, Canada, France and Germany.
Always a festive atmosphere, this 22nd conference offered an intensive day-long "Organic University" on specific topics before the official conference began and, throughout the conference, the regular 90-minute sessions were punctuated by a wide variety of films and entertainment and even a first-annual Poetry Slam.  And let's not forget that all food served at the conference is organic or local.  As reported on the MOSES website "1,520 pounds of food and other compostable items from the conference were hauled away by White Oak Farm Premium Organics / Purple Cow Organics to be composted."
My spouse Ralph's highlight was attending the intensive, 6.5-hour-long Organic University topic "Successfully Growing Small Grains."  The presenters were actual farmers from New York and Western Minnesota who covered all aspects of small grains – including soil nutrient requirements, seed varieties, weed control, pest control, storage and marketing.  The 60 or so participants included producers, educators and researchers.
Two highlights this year for me were theatrical.  The first was "Troubled Waters:  A Mississippi River Story," a film whose viewer demand was likely exponentially increased by the brouhaha it caused at the University of Minnesota before its first showing and that resulted in the resignation of Karen Himle, University of Minnesota Vice President for University Relations, after accusations of censorship and violations of academic freedom.  The film, about pollution in the Mighty Mississippi, was in fact quite interesting, but nothing new to those generally educated on the topic.  The film's music heightened the drama around the perspective it wanted the viewer to take, which was unfortunate, as the facts are totally capable of standing on their own merit.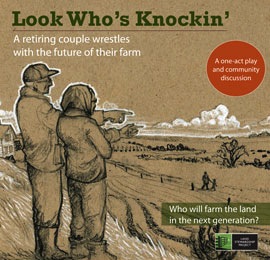 The second highlight for me was a performance of Look Who's Knockin', a professionally-acted, one-act play funded in part by the Southeast Minnesota Arts Council (SEMAC), written by Land Stewardship Project  (LSP) program organizer Doug Nopar and directed by LSP member Eva Barr.  "Created out of numerous interviews and stories of both beginning and retiring farmers in recent years, the play uses humor, story-telling, and the common everyday tension in an elderly farm couple's relationship to prompt personal reflection and community discussion in the audience."
For its second performance of the day at the Conference, the room was packed to standing room only, contributing to a bit of nerves.  At the end-of-play discussion, those present acknowledged that it was a bit like preaching to the converted, as the OFC attendees were likely to have considered stewardship issues before they became imminent.  Nonetheless, discussion was vibrant, as Gerald and Nettie's dilemma of whether to sell their farm to the highest bidder (giving Gerald peace of mind about Nettie's retirement and all but ensuring an end to their stewardship practices) or rent to unknown young farmers (giving Nettie peace of mind that her family's conservation practices would continue, but what would they say down at the coffee shop?) was left unresolved at the end and picked up in the post-performance discussion.
The play is making its way throughout SE Minnesota – primarily in churches – during a 3-month stint this winter.  One can only hope that it will circulate more widely, as its issues are universal to farmers and, really, to all independent business owners.  And it is only natural that LSP, which has played such an important role in helping train beginning farmers, would now turn its attention towards addressing some of the challenges facing both young farmers starting out and older farmers wondering how to pass on the baton.
About Drue Fergison
Drue Fergison, Ph.D., is a freelance writer and translator living in Houston Minnesota. Ms. Fergison has been Director of the Lanesboro Public Library, Lanesboro MN, and the Executive Director of the Polish Cultural Institute, Winona MN. She is a graduate of Amherst College (BA, MA) and Duke University (Ph. D.).
Sources:
http://www.mosesorganic.org/conference.html
http://www.startribune.com/local/111666474.html
http://www.landstewardshipproject.org/pr/11/newsr_110120.htm