Organic Valley, one of the largest marketing co-operatives in the world, continues to demonstrate that the co-operative model can be extremely successful. In the face of a challenging economy, the co-op exceeded its annual sales growth goal for 2010 and distributed a bonus payment to the farmer-owners.
We received the following announcement from Organic Valley: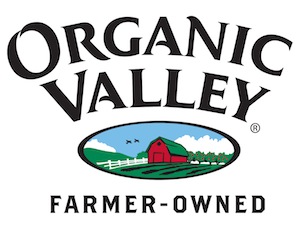 Organic Valley, America's largest cooperative of organic farmers and one of the nation's leading organic brands, today announced it has distributed a bonus 13th check—traditionally, a cash distribution paid out when annual profits exceed sales goals—to its farmer-owners.
"We were very pleased we are able to distribute a 13th check to the members of our cooperative this year, allocating funds right back to the farming families who work the land," said George Siemon, C-E-I-E-I-O and founding farmer of Organic Valley. "It's taken a few years of conservative supply management, but we've moved past recent economic and supply challenges and got to where we need to be, thanks to everyone's cooperation, in the true sense of the word."
The annual sales growth goal set by the Board of Directors for 2010 was 2.38 percent of sales. Upon exceeding those goals, the Board authorized a total payment of $5,345,000 to the membership, which is currently being distributed to farmers-owners across 35 states.
In a letter written to Siemon, Organic Valley farmer-owner Theresa Westaby of Stockton, Il., said, "We are so grateful to you and the Board for your vision and perseverance in dealing with the supply quota, the removal of the quota, and now a 13th check for the second time [first was in 2006]…You all have allowed us to celebrate our 150-year-old farm this year, and we can't thank you enough for that. I often wonder what our first Westaby Great-Great Grandfather would think of us now. He started with his hands, a spade, and a team of horses. Without Organic Valley, we would have ended with tears. Thank you all again so much."
Westaby, together with her husband and family, have been Organic Valley farmer-owners since 2002.
By way of background, in August 2010, Organic Valley lifted its supply quota to allow its farmer-owners to grow from 93% to 100% of their active base. That move occurred just over one year after the cooperative pioneered a supply management system to safeguard the farmers' pay price during a period of slowed growth coupled with near historic lows in farmer pay prices for conventional milk.
In lieu of cutting their own sustainable-based pay prices, Organic Valley dairy farmer-owners collectively decided to require all dairy members to reduce their organic milk supply by seven percent beginning July 2009. Honoring their unique cooperative business structure, they chose this option rather than cut a fellow member from the cooperative or reduce the pay price. This strategic supply management accomplished its goal of safeguarding the farmer membership and sustainable pay price through tough economic times; and in addition, Organic Valley was able to not only exceed sales goals but also bring more farmers into the cooperative who would have otherwise lost their livelihoods. Just last month, Organic Valley brought on 53 organic farmers from Lancaster County Organic Farmers Cooperative (LOFCO) to join the cooperative.
In 2008, the cooperative experienced 22% growth, while in 2009, sales remained flat. As a result of strategic supply management, Organic Valley enjoyed growth at $619 million in 2010, 18% growth from 2009.
Organic Valley: Independent and Farmer-Owned
Organic Valley is America's largest cooperative of organic farmers and one of the nation's leading organic brands. Organized in 1988, it represents 1,617 farmers in 35 states and three Canadian provinces, and achieved $619 million in 2010 sales. Focused on its founding mission of saving family farms through organic farming, Organic Valley produces a variety of organic foods, including organic milk, soy, yogurt, cheese, butter, spreads, creams, eggs, produce and juice, which are sold in supermarkets, natural foods stores and food cooperatives nationwide.
The same farmers who produce for Organic Valley also produce a full range of delicious organic meat under the Organic Prairie label. For further information, call 1-888-444-MILK or visit www.organicvalley.coop, www.organicprairie.coop and the cooperative's farmer website, www.farmers.coop.