Kyle McEachern, manager of Aphrodite's Pie Shop and Café, deep in the heart of Kitslano in Vancouver, British Columbia, serves pie. Lots of pie. Pie made from local, organic products.
GoodFood World spoke to Kyle about the café, how he sources local products, and where the Aphrodite is headed in the future.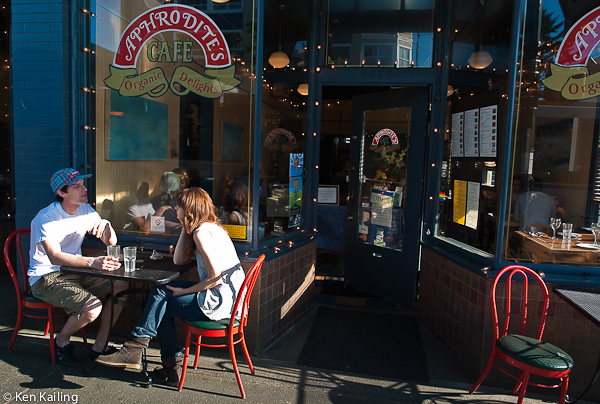 GoodFood World: Where do you source your products? Do you buy from local producers?
Kyle: We work with all local and organic farmers and producers; and our largest farm is out in Fort Langley BC. They provide us with 60% to 70% of our total vegetables for our restaurant.
We're not kind of organic; we are, I'd say, 98%.  One thing we can't find at a very reasonable price is organic canola oil, but everything else is – all our wine, vodka, beer, jams, crackers, you name it.
GoodFood World: What is your definition of "sustainability?"
Kyle: Sustainability for me is about being conscious about every choice that you're making and having balance within that.  So you can still have your fast food once in a while, but know that you should be making a conscious choice once a day to support someone local and something organic. The swing is not going to happen overnight and the generation after me, I think, is going to be the one that is actually going to be taking this whole organic thing to the next level. If you want to be sustainable, just make conscious choices about what you're putting into your body.  Being sustainable is a part of your life rather than something you're trying to be.
GoodFood World: Where did Aphrodite's organic commitment come from?
Kyle: Allen Christian, the original owner, had a farm and they were about to lose the farm, the Glen Valley Organic Farm. Before they sold it off, he decided to make it into a co-op.  So he sold shares into the farm in order to support local business people. Then he started this restaurant, keeping everything fresh and local organic, as fresh as possible. Peggy, his daughter, has now taken over the business and kept is going. She kept all the original restaurant staff.
How many farms do you buy from?
From 6 to 10, depending on the time of year. Rachel, our head chef, is not traditionally trained in a chef school. Our kitchen has a hot side and a cold side and she comes up with all the menus, weekly and daily. She understands how to communicate with farmers, how to make really delicious foods work in season, and she's got a real knack for conjuring up recipes that tempt the palette usually in two or three ways.  She's got a really nice balance in her food, and she has got zero idea of the talents that she has; which makes her even more cool!
GoodFood World: What is your "Bring the Farm to the City" project?
Kyle: We're going to have our first farmer's market just on the side of the restaurant. We're bringing the farm into the city and we're going to order more from them than what we need for the restaurant: some jams, some eggs, and things like that, and our customers can take the farm home with them.  We've got a huge local customer base that we hope will enjoy it. Whatever we don't sell in the farmer's market, we'll just use in the kitchen.
GoodFood World: Where do you see Aphrodite Pie Shop and Café in 5 years?
Kyle: Still here and busier than we are now! We're open from 10 a.m. in the morning to 9:30 at night, seven days a week.  And right now we're doing a pretty good job at being busy about 70% of the time, so we just want to be busy from open to close and have a happy staff. The exact same thing as we are now.
My door is open to new organic products that are kind of neat and really tempt our customers pallets whether it be booze or wine or local B.C. wines.  And we're going to turn our pie shop into a more of a café so we're going to be more of a local café where we're going to be open a bit earlier.  So you can come, sit down and just enjoy a coffee and a pie.