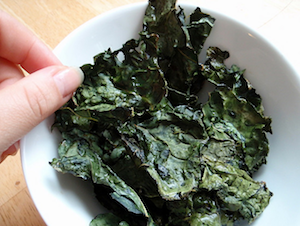 Kale – the "super vegetable!" Here is a great recipe for kale chips; don't laugh until you've tried them!
Ingredients
kale
olive oil
kosher or sea salt
Baking Instructions
Oven temperature: 350 degrees
Baking time: 10 to 15 minutes
Line a cookie sheet or jelly roll pan with parchment paper.
Wash the kale in cold water and dry thoroughly – a salad spinner works great.
Tear or cut the thick rib from the leaves.
Tear or cut the kale leaves into "chip" sized pieces – be aware that they are not as strong as potato chips so you have to dip carefully.
Toss the pieces with olive oil to coat them lightly.
Sprinkle with just a little kosher or sea salt.
Bake until the edges are brown – be careful not to burn them.
Photo credit: joyosity, used with permission under Creative Commons license.