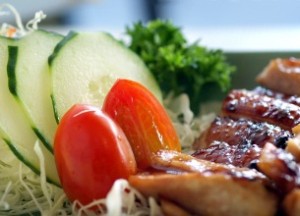 Are McDonald's CEO Mike Roberts and Chief of Operations Mike Donahue seeing the light? After contributing to the 25 pound-weight gain the average American has packed on in the last 50 years, Roberts and Donahue are starting a healthy fast food restaurant chain.
The new restaurant will be called LYFE Kitchen, an acronym for Love Your Food Everyday. It's no small irony that the men who brought high-fat, high-calorie food to the world in disposable containers through a drive-thru window are now planning to source their ingredients responsibly and locally, when possible, all in eco-friendly packaging. And all of LYFE's menu items will contain less than 600 calories.
Now if they would just use the same advertising strategy that McDonald's uses to teach kids to love junky fast food to convince them to love healthy food! After all, they sure know how to imprint young minds!
Photo credit: williamcho, used with permission under Creative Commons license.