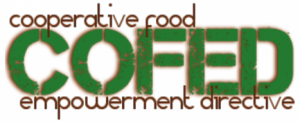 College campuses have always been a testing ground – and launching point – for new and creative ideas. The Cooperative Food Empowerment Directive (CoFed) is a program that teaches and helps students to build and operate ethically sourced, community-run cafés, beverage service, and grocery stores on college campuses.
Launched at UC Berkeley, the campus food movement has reached the University of Washington, where a new campus food co-op will open in the fall of 2011. The UW is providing rent-free space in the health sciences building – an appropriate location – and will pay for utilities. Not only will the staff be all-volunteer, the co-op will sell produce grown on the UW's own campus farm.
The program offers students the opportunity to learn more about food systems, retailing, food service, and cooperative business operations.
Learn more about CoFed in this piece published by Food Safety News.