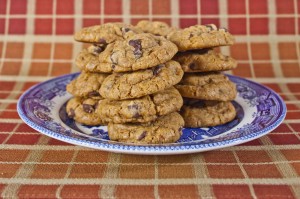 Chocolate chip cookies! Hands down (3 to 1), Americans prefer chocolate chip cookies over any other kind of cookie. They are so beloved that Double Tree hotels have served them to travelers at front desks for 20 years and Midwest Airlines (now merged with Frontier) baked them in the air for almost as long. Frontier has kept the tradition.
While chocolate chip cookies seem to have been around forever, it's only been about 80 years since Ruth Wakefield started baking them at the Toll House Inn, Whitman MA.
Traditionally made with butter, brown sugar, white sugar, all-purpose flour, and semi-sweet chocolate chips, these bits of warm comfort are off the table if you suffer from gluten intolerance or have chosen a diet free of animal products.
Do you have to pass up the goodies? Do you forgo America's favorite portable comfort food?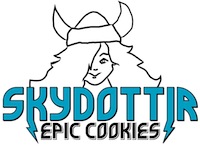 No! Alison Dahmen, Skydottir Epic Cookies, makes chocolate chip cookies that are vegan, use no gluten ingredients, are sweetened with coconut palm sugar, and are made up of mostly (90%) organic ingredients.
Here's how Alison, Skydottir herself, grew her business to 25 retail sites in 25 weeks. (Editor's note: 26, as of January 28, 2011)
GoodFood World: You started this business from zero and already you're selling hundreds of dozens of cookies to cafés, markets, and specialty shops all around Seattle. The first question we need to ask you is, "Why do this?"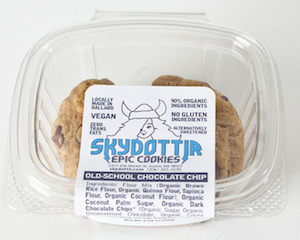 Skydottir: I spent a year helping open a high profile, organic café here in Seattle. It was a crash course in how to launch an organic retail business from the ground up. I learned how much work goes into it; I also saw how rewarding it could be to have my own business.
It also showed me how much more valuable the experience could be if it were my project, my company, not someone else's. I knew I wanted to have my own business, and one day I realized it could be as simple as cookies.
I didn't have to invent something complicated or wait for the perfect idea; I just needed to listen to what the universe had to say to me. I had done a little test marketing at the café with some of my cookies and bars, so I new there was a demand. In fact, my chocolate chip cookies actually won the best vegan, gluten-free cookies for Seattle Metropolitan Magazine in 2009.
GoodFood World: Did you do all the "formal" business planning everyone says you need to do? Did you write a business plan?
Skydottir: Actually at the time I was asking myself if I should go back to graduate school or look for another job in "corporate America?" I was working full time at the café and then I hit on something that seemed to make sense – cookies!
While I didn't put together a formal business plan, I started taking notes and building files. The planning was done in my "spare" time. I was working 50 hours a week and trying to transition myself out to leave the café in good shape after I was gone.
GoodFood World: Starting a small business can be expensive. How did you fund your business? Did you have money in the bank?
Skydott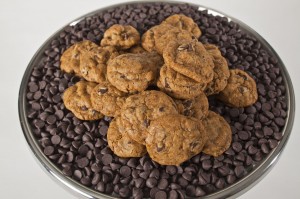 ir: I really started out on a shoestring. When I left my corporate job, I had already scaled back my expenses, and as the cookie idea grew, I scaled back more. I had a small amount of savings – a few thousand dollars – some credit cards, and parents who later loaned me a little more. There was no big bankroll to get started!
Beyond the cost of the ingredients, there was the initial deposit for the rental space in the kitchen, liability insurance, packaging and labels – that sort of thing. Of course, there were all the forms and red tape you have to go through to open a business; thank goodness I wasn't leasing or buying a storefront or hiring employees. It was about as minimal as it could be.
GoodFood World: Advisors to small business startups always want to be sure that enough market research has been done to ensure that the product or service fills a real need. Did you do any formal market research?
Skydottir: While managing an organic café, I learned two things. Seattle is full of people who are looking for healthy options, and everyone who tried my cookies liked them even though they are vegan and made without gluten ingredients. There was certainly a need; if you can't get a decent gluten-free chocolate chip cookie you definitely feel cheated!
Second, I learned how difficult it is to research new options for your customers; I simply didn't have time to track down multiple suppliers. I make it easy for my customers to buy from me. I make p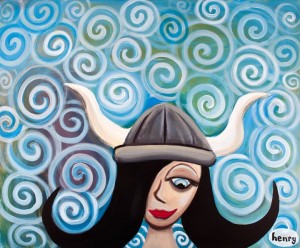 ersonal calls. The minimum order is reasonable. I deliver once a week. I provide marketing and merchandising materials like stickers, pins, window clings and that kind of stuff. I do promotions and social media outreach.
Actually it's pretty easy after they take the first bite!
GoodFood World: So what's next? What does your line extension look like?
Skydottir: I'll be sticking to chocolate chip for the near future; so few people have expressed an interest in any other flavors! I do have some co-branding efforts in the works.
A local ice cream shop is making vegan/no-gluten "cookies 'n' cream" ice cream and serving it in gluten-free waffle cones.
While there are lots of people who want to buy cookie dough so they can bake their own, I'm just not ready to retail it yet. It means finding new sales outlets; the places where I sell the cookies aren't set up to sell the dough.
People who want to buy a larger quantity can order my cookies on Etsy and I'll ship them by the dozen. So far I'm limiting distribution to the state of Washington and only during the cooler months.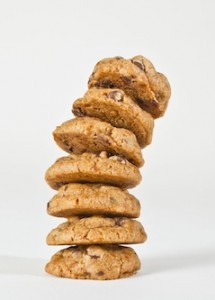 I'm partnering with a vegan restaurant where they will soon offer fresh baked Skydottir cookies. I will sell them the cookie dough and they'll bake the cookies in their kitchen.

GoodFood World: Now that you've got some sales behind you, can you project when you'll be cash flow positive? Can you estimate how long it will take for your business to make money?
Skydottir: It's all still a little hazy! It's just me and for the most part I've had to sacrifice obsessive accounting just to make sure people are getting their cookies. I've tracked everything, but the level of scrutiny I thought I'd have time for, just isn't there. I'm doing a closer examination of my numbers now.
There are so many upfront costs that I had to invest in, like a big tradeshow banner for events. And as you start up, you don't know about the best places to get ingredients or have enough revenue to buy in big enough volume. The ingredients are expensive, but I now get better prices. I still can't afford a drum of organic maple syrup for $1000; not yet.
All in all, things are going better than I expected.
GoodFood World: What does success look like to you? When will you know that you've made the "big time?"
Skydottir: My goal isn't to become the Mrs. Fields of the vegan-organic-gluten-free cookie world; I'm not sure I need to hit the big time. I'll be happy with the middle!
My goal is to do something for a living that is positive, something that I believe in, and that gives me the time to do what I love. I'd like people to associate my cookies with Seattle, to enjoy the personality I've put into the brand.
GoodFood World: What's your advice for someone who is standing on the edge, thinking about starting his or her own business?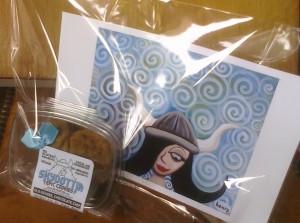 Skydottir: Absolutely, do it! It's not as hard as you think. The things you think are going to be hard, aren't the things that will be hard anyway. You can't predict what your challenges will be.
Keep from being rigid. You don't know what your business will grow into even though you have a vision of what you want it to be. It will grow into what it's meant to grow into. The more you can work with that, the more successful you will be.
A lot of the assumptions I had going into this ended up being completely wrong. It doesn't mean I'm not good at making marketing projections; it's just that you never know until you turn on the lights and open the door and see who really wants what you're selling.
It's been fun and rewarding to see it grow.
Go for it!
——————
For more information about Skydottir Epic Cookies go to skydottir.com or www.facebook.com/skydottir.
Photos: Francis Zera, Zera Photo