The two Senators from Alaska – Mark Begich (D) and Lisa Murkowski (R) have reintroduced a bill to ban genetically engineered salmon. The Food and Drug Administration is likely to approve the first genetically engineered food animal for human consumption.
As a bi-partisan team very concerned with Alaska's wild salmon fisheries, Murkowski and Begich both consider it risky economically and environmentally.
Guess which one of these fish has been genetically modified: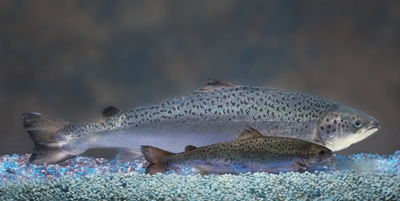 Genetically modified salmon grow twice as fast as Atlantic salmon – the most common species of salmon currently farmed.