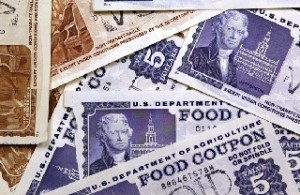 Up 14.2% in the last year, SNAP (Supplemental Nutrition Assistance Program) serves about 1 in 7 Americans, half of whom are children.
Formerly known as the Food Stamp Program, SNAP is largest of the domestic food and nutrition assistance programs administered by USDA's Food and Nutrition Service. The Food and Nutrition Service has expanded outreach efforts to reach those who are eligible, including under-served populations like the working poor.
Overall, the report shows twenty states had rates that were significantly higher than the national rate. Some states had consistently high participation rates relative to other states in all 3 fiscal years examined. In each year from 2006 to 2008, the District of Columbia, Illinois, Kentucky, Maine, Michigan, Missouri, Oregon, Tennessee, Washington and West Virginia had significantly higher participation rates than two-thirds of the States.
Seven state reported about 1/5 of their populations on food stamps in November 2010: District of Columbia (21.9%), Mississippi (20.7%), Tennessee (19.9%), Oregon (19.6%), New Mexico (19.4%), Michigan (19.4%), and Louisiana (19.1%).
For more information, read the announcement from the USDA.