Helena Bottemiller, Food Safety News' DC correspondent reports: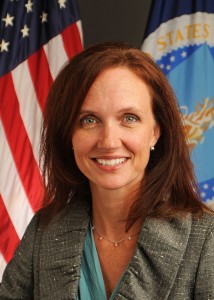 The nation's highest-ranking food safety official laid out the U.S. Department of Agriculture's vision for strengthening the food safety system to better "meet the demands of the 21st century" before the annual American Farm Bureau meeting."No one … no one … is more important to that farm-to-fork system than you," said Dr. Elisabeth Hagen, USDA Under Secretary for Food Safety, in her remarks Sunday at the conference in Atlanta.
Hagen emphasized that her agency would be reaching out to every part of the farm-to-fork continuum – from farmers to processors to consumers – in an effort to modernize the federal oversight of meat, poultry, and processed egg products, which make up 20 percent of the American food supply.
"USDA, FDA and other agencies have an opportunity right now to make this food safety system the kind of 21st century system we want it to be.  To do that, public health has to be at the heart of our legislative authorities, our regulations, and every administrative action that we take," said Hagen, adding that the Food Safety and Inspection Service would emphasize measuring results.
"We want to do those things that will truly impact public health and prevent foodborne illnesses, so we have to measure how we're doing," said Hagen. "And we have to work smarter, more efficiently with our resources."
Read the rest of the coverage here.
Photo: U.S. Department of Agriculture