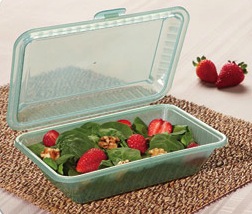 Carry-out, ready-to-eat, ready-to-heat, and "street food" – that is, food cart goodies – all seem to be boxed in either old-fashioned "Chinese restaurant" white paper board boxes or horrible Styrofoam plastic clamshells. Good to keep food warm, bad for the environment.
Portland OR is a haven for food carts (GoodFood World correspondent, Viki Sonntag, recently visited Food Cart Heaven).
Unfortunately, when lots and lots of food carts are grouped in a fairly small part of the city, the food cart waste can get out of hand.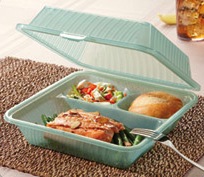 Laura Weiss, GoBox, has found a better way. It's pretty simple:
Food cart diners buy a "subscription" and get a special token to get their food in a GoBox – a hard plastic, reusable plastic clamshell that can be recycled at the end of its usefulness.
Diners give the token to a food cart vendor, who serves the food in the GoBox.
When the diner has finished eating, the GoBox goes into a drop box that returns a token to the diner for the next food purchase.
Easy, eh?
Well, it took an MBA in sustainable businesses and a willingness to look at the problem from a different perspective to come up with it.
In the end, reducing the 60,000+ containers used every month by vendors in central Portland will make a big difference in both the city's waste management and the effect on the environment.
Read more about it here: Go Box: Portland Food Carts' Single-Use Container Waste Inspires Sustainable Solution