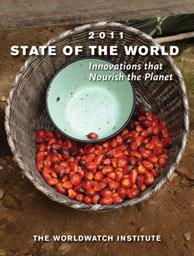 State of the World 2011: Innovations that Nourish the Planet
The 2011 edition of our flagship report is a compelling look at the global food crisis, with particular emphasis on global innovations that can help solve a worldwide problem. State of the World 2011 not only introduces us to the latest agro-ecological innovations and their global applicability but also gives broader insights into issues including poverty, international politics, and even gender equity.
Written in clear, concise language, with easy-to-read charts and tables, State of the World 2011, produced with support from the Bill and Melinda Gates Foundation, provides a practical vision of the innovations that will allow billions of people to feed themselves, while restoring rural economies, creating livelihoods, and sustaining the natural resource base on which agriculture depends.
State of the World 2011 draws from hundreds of case studies and first-person examples to offer solutions to reducing hunger and poverty. These include:
In 2007, some 6,000 women in The Gambia organized into the TRY Women's Oyster Harvesting producer association, creating a sustainable co-management plan for the local oyster fishery to prevent overharvesting and exploitation. Oysters and fish are an important, low-cost source of protein for the population, but current production levels have led to environmental degradation and to changes in land use over the last 30 years. The government is working with groups like TRY to promote less-destructive methods and to expand credit facilities to low-income producers to stimulate investment in more-sustainable production.
In Kibera, Nairobi, the largest slum in Kenya, more than 1,000 women farmers are growing "vertical" gardens in sacks full of dirt poked with holes, feeding their families and communities. These sacks have the potential to feed thousands of city dwellers while also providing a sustainable and easy-to-maintain source of income for urban farmers. With more than 60 percent of Africa's population projected to live in urban areas by 2050, such methods may be crucial to creating future food security. Currently, some 33 percent of Africans live in cities, and 14 million more migrate to urban areas each year. Worldwide, some 800 million people engage in urban agriculture, producing 15–20 percent of all food.
Pastoralists in South Africa and Kenya are preserving indigenous varieties of livestock that are adapted to the heat and drought of local conditions—traits that will be crucial as climate extremes on the continent worsen. Africa has the world's largest area of permanent pasture and the largest number of pastoralists, with 15–25 million people dependent on livestock.
The Food, Agriculture and Natural Resources Policy Analysis Network (FANRPAN) is using interactive community plays to engage women farmers, community leaders, and policymakers in an open dialogue about gender equity, food security, land tenure, and access to resources.  Women in sub-Saharan Africa make up at least 75 percent of agricultural workers and provide 60–80 percent of the labor to produce food for household consumption and sale, so it is crucial that they have opportunities to express their needs in local governance and decision-making. This entertaining and amicable forum makes it easier for them to speak openly.
Uganda's Developing Innovations in School Cultivation (DISC) program is integrating indigenous vegetable gardens, nutrition information, and food preparation into school curriculums to teach children how to grow local crop varieties that will help combat food shortages and revitalize the country's culinary traditions. An estimated 33 percent of African children currently face hunger and malnutrition, which could affect some 42 million children by 2025. School nutrition programs that don't simply feed children, but also inspire and teach them to become the farmers of the future, are a huge step toward improving food security.
The State of the World 2011 report is accompanied by other informational materials including briefing documents, summaries, an innovations database, videos, and podcasts, all of which are available at www.NourishingthePlanet.org. The project's findings are being disseminated to a wide range of agricultural stakeholders, including government ministries, agricultural policymakers, farmer and community networks, and the increasingly influential non-governmental environmental and development communities.
Click on the book cover to buy a copy of this book.