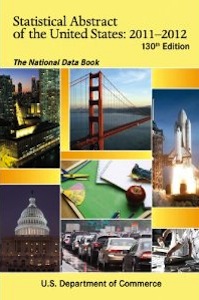 Marion Nestle, the nation's most recognized nutrition watchdog, this week pointed out the highlights published in a New York Times summary of the newly released 2011 Statistical Abstract of the U.S.
Here are a few of her comments:
The meat industry is contracting? Red meat consumption is 108.3 pounds per capita, down 5.4 pounds.
Nutritionists!  Uh oh: Vegetable consumption is 392.7 pounds per capita, down a shocking 30 pounds.
The wine industry must be happy: Wine consumption is 2.5 gallons per capita, up by half a gallon.
The establishment of organic standards in 2002 is working: Organic farmland covers 4.8 million acres, a 170% increase.
Hold your nose: Five states—Minnesota, Iowa, Nebraska, North Carolina, and South Dakota—have more pigs than people.
Read the rest of her commentary here.
What is the Statistical Abstract of the U.S.?
The Statistical Abstract of the United States, published since 1878, is the authoritative and comprehensive summary of statistics on the social, political, and economic organization of the United States.
Sources of data include the Census Bureau, Bureau of Labor Statistics, Bureau of Economic Analysis, and many other Federal agencies and private organizations.