Let's get something clear from the beginning: Moscow rhymes with Idaho, it's not pronounced like the city in Russia, which ends with the common name of a large, domesticated ruminant.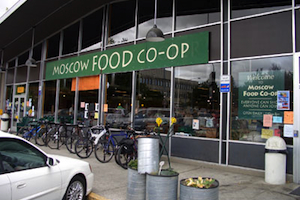 The Moscow Food Co-op is small but mighty! The Co-op serves about 50,000 people in the Moscow, Idaho/Pullman, Washington, metro area and has more than 5,500 of them as members.
We had the opportunity to speak with Kenna Eaton, the Co-op's General Manager, and learned how a small retailer in the middle of the Palouse – the rolling hills and prairie grass of southeast Washington and northern Idaho – is successful.
GoodFood World: In your annual report you proudly state, "Throughout 2009, we kept beating our competitors' prices on organic and natural food!" Who are your competitors?
Kenna Eaton: Rosauers Supermarkets (a small Spokane chain) with the Huckleberry's "Store Inside the Store" is probably our main competitor. Our customers can bring in brown paper bags for us to reuse, and a lot of them come from Rosauers.
They're the only grocery in our region that actually has a dedicated natural foods "set" – a full range of natural and organic products including bulk items.
We do have a Safeway, but I just don't see them as true competitors. A Walmart Super Store just opened in Pullman. I know they are the number one retailer of organics worldwide and I'm not quite sure what effect that's going to have on us. The first two weeks after they opened, I didn't see any drop in sales, but we've had lots of snow and that may have kept people from driving to Pullman to shop.
GoodFood World: How old is your store? How has it changed since it was founded?
Kenna Eaton: Our co-op was founded in 1973, early in the natural foods/health foods timeline, and our approach to retailing has changed a lot over 35+ years. I came on board in 1982 as a co-coordinator, and became general manager in 1991.
We've worked really hard to be "middle of the road' so anyone would feel welcome. With each move to make the store larger, we became more open and more welcoming to a broader range of the community. Because we are rural, even with two universities, we have a lot of farmers and some loggers; we want everyone to feel comfortable shopping here.
Larger co-ops in larger communities can afford to be more radical because there are so many people there who will shop in their stores. Their demographics are different and allow them to do that.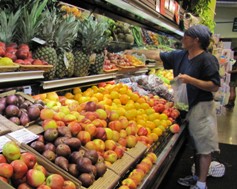 GoodFood World: In your annual report you note that about 75% of your sales are to members. Is that a high percentage, or is that about normal?
Kenna Eaton: I think it's pretty standard. People who join co-ops decide to become members both because of the co-op philosophy and because there are financial benefits such as savings on their purchases.
We try to make it affordable for our members by breaking it down to $10 a year rather than asking them to pay $150 in one lump sum. By the time they are ready to take out a membership, they have already made the decision to shop here more.
While we have about 5,500 members, I'm not sure we've sold our shoppers on the intangible advantages of co-op membership and ownership.
GoodFood World: Congratulations on what looks like some strong fiscal controls. Your 2009 sales of $7.27 million were down very slightly over 2008, yet your net results improved from a net loss of about $44,000 in 2008 to net income of more than $158,000 in 2009. To what do you attribute that improvement?
Kenna Eaton: We had a fairly new management team that was ready to take stronger control of departmental operations. I'm not a micro manager; I let people manage their own departments.
Also the economic crisis gave us all a reason to focus on details and costs; we all buckled down together. Some of it was cost control, but we also watched our costs and quickly adjusted our prices accordingly. For a long time we could coast, but when prices went up so fast we had to be much more aware. In 2008 we didn't raise our prices fast enough; in 2009 we were on top of it.
We also have a deli and bakery, and because we make so much product from scratch, it gives us a higher gross profit margin even though the labor is higher. We are becoming smarter about business, rather than just working harder.
GoodFood World: Almost every co-op we've visited, except the really small ones, have food service and a bakery. Is that necessary to balance your product flow?
Kenna Eaton: We were driven by need. For example, we simply could not find a good loaf of whole wheat bread in our community and we wanted to sell it. We happened to have someone on staff who had experience running a bakery. So we got started with minimal cost.
Once we had bread, then we put it together with lettuce and cheese to sell sandwiches. The next thing was to take the not-so-good-looking produce and turn it into soup. It just grew one step at a time.
We didn't just take an opportunity to sell prepared food, but we turned it into an educational opportunity. People don't want to spend a lot of money on food when they don't know what it tastes like, so we use the deli as a way to teach people about food and to break down misconceptions.
By offering food in our store we give people the opportunity to nourish their bodies and a chance to learn other ways to eat, to eat foods in different combinations.
Our store really is a third place for a lot of our shoppers, where they come to visit with their friends and participate in lots of community programs. One of our newest programs is a new parent classes; at the first session, we had about 20 to hear an expert we brought in talk about child rearing. They were not just learning something; they were making new friends too. We find that a lot of people use the co-op to build community.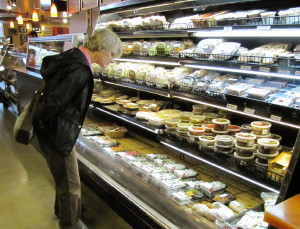 GoodFood World: In some co-ops, a very large percentage of sales comes from food service. Is that the case with the Moscow Food Co-op?
Kenna Eaton: Grocery is still our biggest seller, though the kitchen takes up half the staff.  Still our food service sales are about 20% of all retail sales.
GoodFood World: When the co-op started in 1973 – and probably still in 1983 when you joined – it was likely very much a traditional co-op with barrels on the floor, barefoot kids, and hippies. Now co-ops are approaching Whole Foods in design and product mix; shoppers might not notice a lot of difference.
Kenna Eaton: I think people might say that about our store too, but they'd be wrong. Certainly when we moved here 5 years ago we were lucky. It's an old Safeway store, measuring about 15,000 square feet.
We have a low, dark ceiling and we used vegetable colors to paint our walls. When you walk in, the store is pretty, it kind of glows. We have a nice welcome sign, a beautiful presentation of our produce, people doing demos… and, yes, there are people who would say we resemble Whole Foods.
There is definitely a difference; there is an authenticity in what we're doing. We are a co-op through and through. There's nothing wrong with a nice presentation; and because we don't limit ourselves to a certain food selection, we are accessible to the entire community.
On the other hand, we're definitely not a regular grocery store: cold, white, and clinical. We've become a destination for a lot of people. They might compare us more with a farmers market than with Whole Foods.
GoodFood World: It's interesting to watch the evolution of natural food markets, but you do have to work even harder to differentiate yourselves. What are you doing to stand out?
Kenna Eaton: Our outreach programs have really built our membership and sales over the last year. From our being more active in the community, people know we're here and what we're doing.
It took us a long time to finally break down and hire an outreach person, but we did it two years ago.  It's been a terrific investment; I can see the return. We do a lot of community building through our programs. The new parents group, a kids club…
We have a growers market in the parking lot every Tuesday during the season. It may affect our produce sales by doing that, but it gives our local growers another opportunity to sell their products. By selling direct to consumers they can build relationships with their customers.
We're joining forces with a local gleaning group called Backyard Harvest to teach people how to can and preserve food. We're working specifically with low-income groups who really may not know what to do with gleaned and donated food.
I feel like Whole Foods has done a better job of claiming responsibility for the growth of organics and local food, but it's really the co-ops who have done all the hard work. The co-ops are the ones that got the organic standards passed. I think people recognize the difference.
Shoppers recognize who we are and what we are doing; that we keep our money in the community and we have our triple bottom line. We do so much for our community; we just need to do a better job telling people what we do.
Learn more about Moscow Food Co-op here.
Photos: Moscow Food Co-op (store front), David Matusiak; All others: Moscow Food Co-op