An old-fashioned county fair gathered farmers, their families, and hundreds of "city folk" to meet and enjoy each others' company. Barns full of prize-winning livestock; exhibits of garden produce, baked goods and preserves; and lots of music and excitement helped build a sense of community.
Seattle Tilth's annual Harvest Fair is an urban version, but all of the components are there!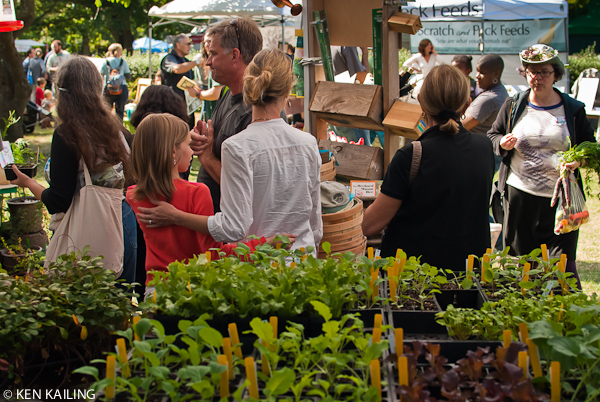 Goats, chickens, and bees – "city livestock" – were on exhibit. Masses of produce, fresh baked goods, and preserves were all on exhibit, and for sale. Music, both organized and impromptu, echoed across the "fairgrounds" and children festooned with herb and floral crowns they made themselves, danced on the lawn. Families picnicked and dogs barked.
It was an opportunity for the producers of good food to establish close connections with the eaters of good food, as farmers mingled with families looking to buy fresh organic produce, garden plants and supplies, and sustainable goods and gifts.
This year, some of those farmers included: Jerry Pipitone, Pipitone Farms, where they Grow Italian Tomatoes with Character; Jennifer Argraves, Crown S Ranch, who with her husband Louis Sukovaty, have Engineered an Organic Farm, and Lindsay Barbieri, who works at Finnriver Farm.
Seattle Tilth's mission is to inspire and educate people to garden organically, conserve natural resources and support local food systems in order to cultivate a healthy urban environment and community. Among the learning opportunities at the Fair were workshops and classes that included:
Fermentation
Feasting from the Farm
How to Make a Work Bin
Rainwater Harvesting
How to Get Stated With Bee Keeping
Learn How to Forage
Urban Gardening
What makes a Farm Sustainable?
Winter Gardening
It was indeed a county fair in the city!