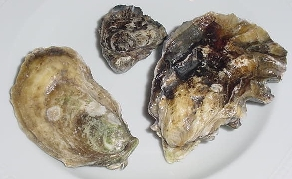 A plate full of raw oysters is a delicious treat for discriminating diners. But that treat can be risky too, if contaminated with the Vibrio vulnificus bacteria, relative of V. cholerae, which causes cholera, or Karenia brevis, a microscopic marine algae that causes "red tide." The algae that causes red tide is clearly visible and occurs irregularly, however the Vibrio vulnificus bacteria is invisible and can be persistent.
Both occur in the warm months of the year, thus the old adage to only eat oyster in a month with an R in it. Vibrio vulnificus is occurs in the warm waters of the Gulf of Mexico, not in the cold waters of the northern Pacific and Puget Sound.
Oysters filter water very effectively – filtering 20 to 30 quarts of water an hour – and can quickly clean muddy or polluted water. At the same time, those living water filters are absorbing bacteria and algae and can become toxic or contagious.
In October 2009, the Food and Drug Administration (FDA) announced new food safety guidelines to go into effect in 2011, requiring Gulf Coast oysters to sterilized in a post-harvest treatment process before being sold in the months of April through October. The shellfish industry in Louisana went wild.
Just a month later, the FDA announced it would delay implementation of the new rules, would commission a study to explore alternatives to reducing the illness vibrio vulnificus, and do an economic analysis of how the ban would impact the oyster industry.
The passage of the Senate version of the Food Safety Bill this week contained limitations on the FDA's ability to bring back those guidelines without involvement of state officials and agencies.
According to the author of the language limiting the FDA, Senator Mary Landrieu (D-LA), only 15 people with pre-existing conditions died from eating raw oysters last year.
Read more about the oyster industry, regulations, and food safety here.