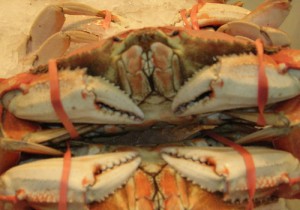 The iconic Oregon Dungeness crab fishery has become the first West Coast crab fishery to earn the Marine Stewardship Council (MSC) certification for sustainable, well-managed fisheries.
The certification follows an intensive multi-year assessment by Scientific Certification Systems that examined the region's crab supplies, the effects of fishing on the health of the marine environment, and the effectiveness of fishery management. The assessment process resulted in improvements to fishery practices including an ongoing monitoring plan and a new model for assessing sustainable fishing practices and size limit.
Product packaging containing seafood from the fishery is now eligible to bear the widely recognized MSC ecolabel signaling to consumers that they are choosing seafood that was caught and handled in a sustainable manner. "This is a great move for the Oregon Dungeness crab fishery," said Dr. Sabine Daume, manager of the Sustainable Seafood program at SCS. "Shoppers will be able to easily distinguish crab that was caught in an environmentally responsible manner."
"We anticipate that the MSC label will create new marketplace opportunities and recognition for 'Oregon Dungeness' as awareness of and demand for certified seafood products grows," said Nick Furman, executive director of the Oregon Dungeness Crab Commission.
The Oregon Dungeness Crab fishery is the state's most valuable single species fishery, producing a 2009-2010 harvest valued at $44.8 million. Dungeness crab is Oregon's official state crustacean and the crabs have been harvested commercially along the Pacific coast since the late 1800's.
Scientific Certification Systems (SCS) has been providing global leadership in third-party sustainability and environmental certification, auditing, testing and standards development for more than 25 years. SCS programs span a wide range of industries including green building, product manufacturing, food and agriculture, forestry, retailing and more.
Source: Scientific Certification Systems (SCS)
Photo credit: Maureen "Mo" Reilly, used with permission under Creative Commons license.