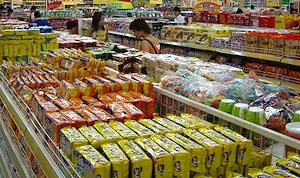 This past week in conversation with a key local food economy mover-and-shaker, the subject of choice came up.  She was arguing for a particular model of farmers markets – the ones with 30 plus vendors – as being the most economically self-sustaining, "…because Americans love choice."
Since my own view is that there's a need for a diversity of farmers market types, it got me to thinking: How fundamental is choice to growing a sustainable food economy?  On the surface, it would seem that more choice at your local farmers market paradoxically calls for fewer sorts of farmers markets.
A recent article, Scaling Up Local Food, in the Canadian Centre for Community Renewal's e-journal, adds another dimension to this conundrum. In it, the author, Sean Connelly, a post-doc researcher at Simon Frazer University's Centre for Sustainable Community Development, describes a federation of autonomous place-based consumer cooperatives in Japan with over 350,000 members who use their collective purchasing power to support farmers producing local and sustainable product. The cooperatives offer members access to 1,600 items compared to the typical 9,000 items offered by other coops.  Wouldn't you think that with that many members it might be the other way around?
In fact, fewer product choices make local alternatives to industrial production viable.  The cooperatives form long-term agreements with producers based on pre-ordering and guaranteed prices.   In turn, as risk is reduced, producers are able to make investments in agricultural and processing that lowers the price of their product.
These examples point to a trade-off regarding food system economics that is often overlooked.  Choice at one level of a system might result in less choice at other levels.  As many of us know from reading Michael Pollen, high-fructose corn syrup is a staple in the plethora of processed food products we find in our super markets.  By contrast, the local food economy serves as a storehouse for diversity, especially product varietals, which are of great value, both taste-wise and traditionally.  Moreover, as many small farmers testify, diversity on the farm is linked to economic sustainability. 
Now, my friend's argument about the preferred model for farmers markets has merit.  A diversity of farms and product helps to attract customers – at least, customers who are attracted to choice.  But the growth of a sustainable food economy may require a different choice – a commitment to sustainable food systems as a whole.  And sometimes that might mean consumers will end up with a little less choice of their own in order to make locally and sustainably produced food accessible to a greater number of folks.
Photo credit: gab, used with permission under Creative Commons license.
About Viki Sonntag
Viki Sonntag, PhD, is a practitioner, activist, and researcher in alternative economics and founding director of EcoPraxis, a non-profit that works collaboratively with community-based businesses and organizations to put the vision of sustainable community economies and resource use into practice.