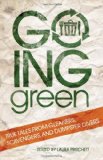 Going Green: True Tales from Gleaners, Scavengers, and Dumpster Divers, Laura Pritchett (University of Oklahoma Press, 2009)
Never mind the Ph.D. and middle-class trappings—Laura Pritchett is a Dumpster diver and proud of it. Ever since she was old enough to navigate the contents of a metal bin, she has reveled in the treasures found in other people's cast-offs.
For Going Green, Pritchett has gathered over twenty writers to tell their personal stories of Dumpster diving, eating road kill, salvaging plastic from the beach, and forgoing another trip to the mall for the thrill of bargain hunting at yard sales and flea markets. They look not just at the many ways people glean but also at the larger, thornier issues dealing with what re-using—or not—says about our culture and priorities.
The essayists speak to the joys of going beyond the norm to save old houses, old dishwater, old cultures, old Popsicle sticks, and old friendships—and turning them into something new. Some write about gleaning as a means of survival, while others see the practice as a rejection of consumerism or as a way of treading lightly on the earth.
Brimming with practical and creative new ways to think about recycling, this collection invites you to dive in and find your own way of going green.
Click on the book cover to buy a copy of this book.