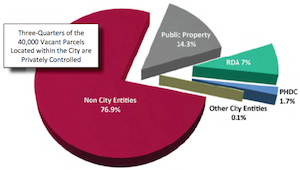 Philadelphia has an enormous amount of vacant land within the city limits: 40,000 vacant parcels. And three-quarters of those parcels are privately owned or controlled.
The City is exploring ways to reduce the budgetary burden of those properties, to allow more development within the city, and to reduce the affect of vacant and/or dilapidated property on nearby property values.
However, in the report "Vacant Land Management in Philadelphia,"conducted by Econsult Corporation Penn Institute for Urban Research, no mention is made of ways to use that property for urban agriculture.
However there is a second report that does exactly that: Using Multispectral Analysis in GIS to Model the Potential for Urban Agriculture in Philadelphia, by University of Pennsylvania professors J.E. Dmochowski and W.P. Cooper.
A quick summary:
In the context of growing concerns about the international food system's dependence on fossil fuels, soil degradation, climate change, and other diverse issues, a number of initiatives have arisen to develop and implement sustainable agricultural practices. Many seeking to reform the food system look to urban agriculture as a means to create localized, sustainable agricultural production, while simultaneously providing a locus for community building, encouraging better nutrition, and promoting the rebirth of depressed urban areas. The actual impact of such system, however, is not well understood, and many critics of urban agriculture regard its implementation as impractical and unrealistic.
This project uses multispectral imagery from United States Department of Agriculture's National Agricultural Imagery Program with a one-meter resolution to quantify the potential for increasing urban agriculture in an effort to create a sustainable food system in Philadelphia. Color infrared images are classified with a minimum distance algorithm in ArcGIS to generate baseline data on vegetative cover in Philadelphia. These data, in addition to mapping on the ground, form the basis of a model of land suitable for conversion to agriculture in Philadelphia, which will help address questions related to potential yields, workforce, and energy requirements. This research will help city planners, entrepreneurs, community leaders, and citizens understand how urban agriculture can contribute to creating a sustainable food system in a major North American city.
Read more about this research here.
Download: Vacant Land Management in Philadelphia" Report. Nov. 2010. by Econsult Corporation Penn Institute for Urban Research