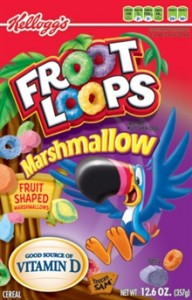 Are we dyeing our children from the inside out? It appears so.
Americans' exposure to artificial food dyes has risen sharply. We consume five times as much food dye as we did 30 years ago, according to the Food and Drug Administration.  The amount of food dye certified for use was 12 milligrams per capita per day in 1955.
In 2007, 59 mg per capita per day, or nearly five times as much, was certified for use. It is also interesting to note that of the color additives that the FDA now allows for use in food, none of them were actually in existence in 1955. (Read the list here.)
In June 2008, the Center for Science in the Public Interest petitioned the FDA to ban Yellow 5 and 6, Red 3 and 40, Blue 1 and 2, Green 3, and Orange B in the United States. Obviously the wheels of government grind slowly, here it is the end of 2010 and Kellogg's snacks and breakfast cereals are still full of artificial coloring.The British Food Standards Agency is urging companies to voluntarily eliminate the dyes and many European companies are using natural colors from beet roots, pumpkins, carrots, annatto, and paprika extract.
The ingredient list from Kellogg's® Froot Loops® Marshmallow cereal is especially damning. It starts with sugar – the largest ingredient by weight – and goes down hill from there. Kellogg does remind us – in large letters on the front – that this cereal is a "good source of Vitamin D" and the nutrition label on the back indicates there is "less than 0.5g trans fat per serving."
Ingredients:
Cereal:
Sugar; Whole Grain Corn Flour; Wheat Flour; Whole Grain Oat Flour; Oat Fiber; Soluble Corn Fiber; Partially Hydrogenated Vegetable Oil (One or More of: Coconut, Soybean And/Or Cottonseed Oils)†; Salt; Sodium Ascorbate And Ascorbic Acid (Vitamin C); Niacinamide; Reduced Iron; Natural Orange, Lemon, Cherry, Raspberry, Blueberry, Lime, And Other Natural Flavors; Red #40; Blue #2; Turmeric Color; Zinc Oxide; Yellow #6; Annatto Color; Blue #1; Pyridoxine Hydrochloride (Vitamin B6); Riboflavin (Vitamin B2); Thiamin Hydrochloride (Vitamin B1); Vitamin A Palmitate; Bht (Preservative); Folic Acid; Vitamin D; Vitamin B12.

Marshmallow Bits:
Sugar, Modified Cornstarch, Corn Syrup, Dextrose, Gelatin, Artificial Color [Yellow #5, Red #40, Blue #1, Yellow #6], Sodium Hexametaphosphate, Natural And Artificial Flavor.