(Reprinted with permission from the Hartman Group)
After a summer of margaritas at the beach, s'mores aplenty, and a few too many sunburns, fall has turned from "back to school" to "back on track," finding us searching for all things healthy and whole without sacrificing taste and fun. With that, we thought it was high time to take our readers along with us on a virtual tour of what's on trend and on the horizon in the world of health and wellness. So toss on a scarf, grab your galoshes and follow us through the warm Seattle drizzle as we trek to a few of our favorite local haunts.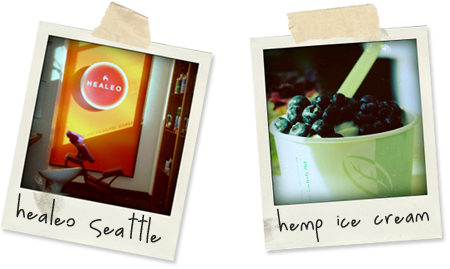 A visit to Seattle's Healeo café tops the list. Healeo has a top tier of private label supplements derived from whole foods and excellent condition-based signage that may well be the future of supplements.
Check it out for the hemp soft serve 'ice cream", pu erh tea (all that beneficial bacteria from fermentation in a lovely tea!), maca powder (the super-duper adaptogen), camu camu and lots of cacao and coconut-based delights. This place represents the kinder gentler version of the impossible-to-maintain-unless-you-quit-your-job raw food movement.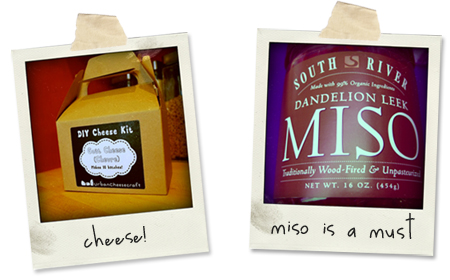 A few short steps away is the city's Mac Daddy co-op, Madison Market. Check out the first aisle across from the cheese section (note the DIY cheese kits) with sprouted flax crackers, raw dehydrated snacks for the on-the-go raw foodist as well as super premium red palm oil and virgin coconut oils. Chilled dandelion leek miso in glass jars is a must and also beloved by famed NYC chef David Chang. Their bulk section boasts many sea vegetables, sprouted treats such as granola, almonds and raw cacao-n-seed squares. A super cool berry getting much attention from hardcore wellness consumers these days are mulberries, which Madison Market has in bulk.
Another area of interest is chilled dairy where they offer Jackie's Jerseys grass-fed raw milk from Bellingham, WA. Perceived as better than other area raw milks (sorry Holstein fans) because the milk is from the more nutritive Jersey cow as opposed to the Holstein, prized for its abundant fluid volume, yet lacking in vitamin K2 and CLA. In their chilled beverage cooler near the beer, there are a few brands of kombucha, Andrew Weil's turmeric tea (goodbye inflammation!) as well as a funky brand of rejuvelac (fermented wheat beverage).
At both Madison Market and your own local co-op, look to Grace Harbor Farm's Guernsey yogurt. Guernseys are very similar to Jersey cows, offering much higher nutritive value compared to the mass market favorite Holstein dairy cows. Locally, this is as close as we get to the fab grass-fed Trader's Point from Indiana.
Next stop: North Seattle. Thrive in the Ravenna neighborhood is a crazy haven for raw foodists, based on San Francisco's Gratitude Café. This is super core, lots of Vita Mix smoothies, coconut water fresh from the nut, and grassy juices. Check out their mission statement:
Our mission is to create an environment for you to be nourished and to unleash the physical magnificence possible for all people. Our products and services are a testament to the decadence of raw and living foods, demolishing the myth that to eat healthy you must sacrifice deliciousness. Oh, not so! Our food is amazingly delicious, wickedly good for you, gluten-free, dairy-free, and WHOLLY pro-bliss, pro-joy, and pro-shine. Our community-oriented environment is a place where our customers and employees awaken to the fullest expression of what it is to THRIVE, and we are committed to the complete health, fulfillment, and satisfaction of our community. We invite you to be someone who chooses to live life fully and who takes on being 100% responsible for your health and well-being. We love that you are here, and look forward to being of service. WELCOME to Thrive!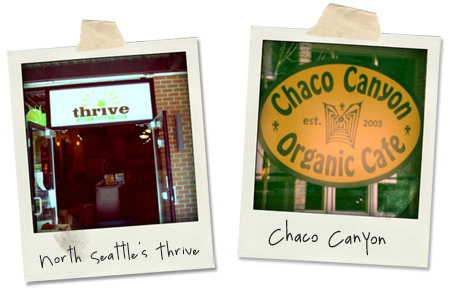 Another raw foodie haunt is Chaco Canyon in the University District, similar but not as intense as Thrive. As Washington's first certified organic vegetarian restaurant, Chaco Canyon serves up vegetarian, vegan and raw fare in a relaxed atmosphere, even offering organic boozy treats.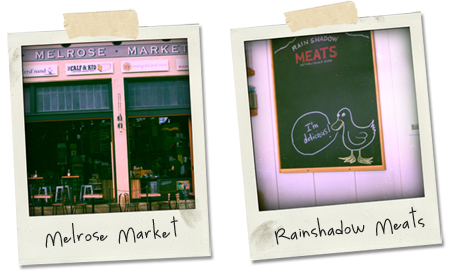 While there's nothing like freshly pressed kale juice, there is truth to the motto "too much of a good thing." So in the spirit of balance, our next stop is Rain Shadow Meats, a full service butchery featuring all local meats and a mission to bring back the local neighborhood butcher with a focus on education and community. Located in Melrose Market — a brand new gastronomy and retail mecca in always-trendy Capitol Hill neighborhood — Rain Shadow is a great example of an Around the Bend core trend, away from acetiscm, veganism and hummus (all due respect) and toward the health benefits from grass-fed beef, offal and the wonders of quality fat. Our modern day health and wellness gurus such as Michael Pollan, Nina Plank and Weston Price (okay, so he's dead but would probably kill for some of Rain Shadow's praised charcuterie) would feel right at home here.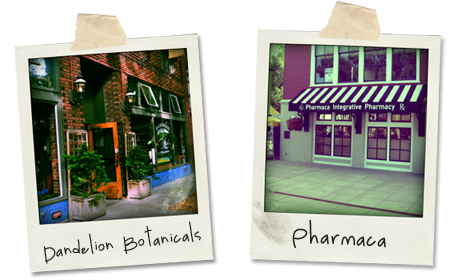 A proper seasonal cleanse would not be complete without a visit to an herbal/supplement specialist. Ballard's Dandelion Botanicals found and foraged approach coupled with the sensibility of an old timey apothecary is inspiring – provided you bring your shaman guide. A useful exercise would be to compare Dandelion Botanicals, Ravenna's The Herbalist (neat-o marketing via their new synergistic kits and categories, but a ho-hum retail experience) along with Super Supplements (the local answer to GNC) and the integrative pharmacy Pharmaca. Each retailer has a varied approach to communicating wellness with consumers.
As evidenced from our health and wellness trek, there are many tools consumers pick and choose from in attaining a healthy lifestyle. These tools vary based on the occasion, such as the "paying-for-your-sins detox breakfast" to the "aspirational afternoon snack" as well as how involved they are in the World of Health and Wellness. A similar thread among these tools is that the ingredients are high quality and they are purchased from "specialists in the know" such as The Herbalist and the Sustainable Butcher.
For more insights into the world of health and wellness trends, check out our latest reports on re-imagining health and wellness.
About The Hartman Group, Inc.
The predominant consumer culture consultancy The Hartman Group blends leading-edge primary research with a unique brand of customized analysis to deliver the most comprehensive insights into how consumers live, shop and use products that inspires innovation, strategy and tactics. For more information go to www.hartman-group.com.