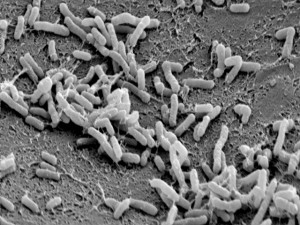 Nature continues to surprise us with the many ways plants interact with the world around them. Scientists at the University of Bristol (UK) have discovered a previously unknown route by which GM genes may escape into the natural environment.
By studying plant-fungi-bacteria interactions at plant wound sites, the team have identified a natural process stimulated by a hormone released by the wounded plant that would allow synthetic genes to move across organisms and out into the wild.
Professor Gary Foster said: "This study suggests that the encounter between Agrobacterium and a fungus on the plant surface may lead to gene flow in a previously overlooked way, potentially leaking GM genes into the natural world."
Read the University of Bristol announcement here. To download the research article, Investigating Agrobacterium-Mediated Transformation of Verticillium albo-atrum on Plant Surfaces, here.
Ed. Note: Agrobacterium transforms plant tissue as part of its infection process and is a tool scientists use to genetically manipulate many species of plants.