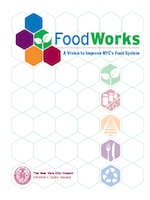 The City of New York has released an 86-page, comprehensive plan that sets a bold vision for a more sustainable food system – a ground-to-garbage approach.
The plan – 'FoodWorks' – provides a blueprint for addressing issues at every phase of the food system ranging from proposals to combat hunger and obesity to preserving regional farming and local food manufacturing to decreasing waste and energy usage.
The Plan consists of 59 policy proposals including new legislation, funding initiatives and far-reaching goals that present a long-term vision for a better food system.
The Council worked with experts including farmers, gardeners, chefs, partners in government and labor, as well as hunger and environmental advocates throughout the process of developing the Food Works report.
Get a copy of the report here.
Fly west about 2800 miles to Seattle and compare this effort to Seattle's Local Food Action Initiative. Passed in 2008, the initiative has been discussed, analyzed and reported on but the "Action Plan" that was due out in September 2010 has not yet appeared.
An update by Richard Conlin, Seattle City Council President, will be presented on Saturday, December 4, during the Cultivating Regional Food Security Conference, co-hosted by the University of Washington Botanic Gardens and Washington State University Extension.
The efforts continue on a number of fronts with various people and organizations proposing a number of plan elements, including the Community Food Security Coalition (CFSC) who, last August, recommended:
Inter-departmental coordination
Zoning and regulatory changes that support healthy food production, distribution and consumption
Support for urban agriculture
Public education on Seattle's foodshed
Support for local and sustainable food-related economic development
Increase of Seattle resident's food security
Time for Seattle to take a lesson from the Big Apple?