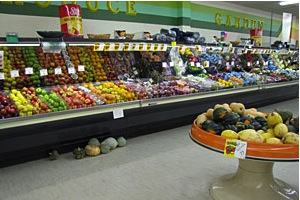 Walk into the brick building that is Lou's Eagle Grocery on the corner of Fourth and E streets in Eagle, Nebraska, and you'll see a full service grocery store crammed into less than 2,000 square feet.
There's fresh produce and meat, a selection of wine, premium beers and coffees as well as DVD rentals and a surprisingly large selection for a store with just three narrow aisles.
The store was hopping just after Saturday's game, when more than a dozen people dropped in to buy a few essentials, cigarettes or ingredients for dinner.
Lou's has a small-town, community feel, the kind of place where the cashier knows most by name.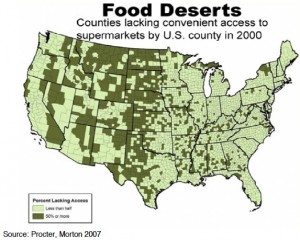 Without the local grocery store, many residents in the so-called "food deserts" don't eat enough fruits, vegetables, dairy and protein — and it's causing increased health problems.
And while the perception is that shopping at a smaller store means higher prices, many local stores actually charge lower prices for basic food products. Read about Lou's Eagle Grocery in the Lincoln Journal Star.
Unfortunately, rural grocery stores are slowly disappearing across the nation.
The Center for Rural Affairs has published a new report documenting the loss of rural groceries and food deserts – Rural Grocery Stores: Importance and Challenges.
In Iowa the number of grocery stores with employees dropped by almost half from 1995 to 2005, from about 1,400 stores in 1995 to slightly over 700 just 10 years later. Meanwhile, "supercenter" grocery stores (Wal-Mart and Target, for example) increased by 175% in the 10-year period. (O'Brien)
In rural Iowa, 43% of grocery stores in towns with populations less than 1,000 have closed. (Procter)
In Kansas, 82 grocery stores in communities of fewer than 2,500 people have closed since 2007, and nearly one in five rural grocery stores has gone out of business since 2006 (Kansas State; Procter). In total, 38% of the 213 groceries in Kansas towns of less than 2,500 closed between 2006 and 2009. (Impact Lab)