It is believed that the first CSA program in the US appeared in the early 1980s, although the concept had been in place in Europe and Japan since the 60s. Just what is a CSA?
Community Supported Agriculture (CSA) is a very popular way for consumers to buy local, seasonal food directly from a the producer.  Generally a farmer offers a certain number of "shares" to the public. Typically the share consists of a box of vegetables or vegetables and fruit, but other farm products may be included. Consumers purchase a share (also called a "membership" or a "subscription") and in return receive a delivery of seasonal produce each week throughout the farming season.
The concept has expanded to include more than just produce CSAs. For example, I belong to a chicken/egg CSA where I receive an organic, pastured chicken (ready to cook) and a dozen eggs, once a month. The same farm offers a beef or pork CSA as well.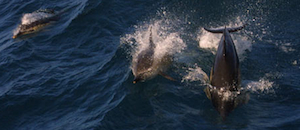 Now we have CSF – Community Supported Fishery!
Following the CSA model, CSF shareholders pay a flat rate to a fisherman up front for a share of his or her catch for the fishing season. Most CSFs deliver a range of whole fish, so customers experience variety and seasonality.
Northwest Atlantic Marine Alliance lists 14 CSFs that offer everything from shellfish and lobsters to fin fish.
Seems like just the ticket for the Pacific Northwest! I'll be keeping my eyes open!