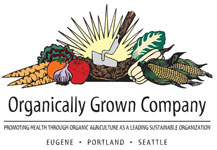 On the date of his celebration of 25 years with Organically Grown Company (OGC), marketing director David Lively shared his thoughts on the organic movement, the organic trade, and organic farming.
Since its inception in 1982, OGC has become the largest wholesaler of organic fruits, vegetables, and herbs in the Pacific Northwest. Founded by farmers, Organically Grown has built a grower network and small organic trade system that makes it possible to buy over 90% of its products directly from the growers.
Join in the conversation as David shares his perspective, vision, and experience.
GoodFood World: The organic movement really took off in the 80s, and the organic trade has grown consistently ever since. What does the future growth curve look like to you? With 25 years experience behind you, what do you see the next 25 years bringing?
David Lively: While many people thought in the 80s that organics were a fad, I've always considered organics a niche. Fads come and go, but organics are always going to stay.
I compare organic products to craft beers. Craft beer will always have 5-10% of the market and probably never exceed it. There are only so many people who care enough about the quality of the beer and have the money to pay for it.
For a long time organic food products were about 2% of the market; the figures I see now put it closer to 4%. Organic produce has a higher share of the fresh produce segment – as high as 10%.
For now, and in the foreseeable future, I expect that overall organic production will peak out at around 8% of the market; I just don't think more than 10% of consumers see the organic value or see it as a solution to food quality and nutritional issues.
I think a lot will change over the next 25 years. In my book, conventional agriculture is based on a lot of non-sustainable limited-resource practices and principles and the chickens are coming home to roost on those.
The conventional system is reaching the end of the road with current practices on a global scale. I expect that there will continue to be more evidence that organic production is a superior system and a lot more sustainable. In an environment of global climate change, it makes a lot more sense to farm organically.
I won't go out on a limb to say that fresh produce will be100% organic in 25 years, but in the long run, I believe that organic will become the production method. At that point, people like us who have used organic as a marketing edge and have claimed premium prices will lose our advantage.
(Return to the top of the page.)
GoodFood World: As a niche supplier, how do you remain competitive? The competition selling organic produce seems to be growing locally and regionally and, at the same time, you're all buying from a small base of suppliers.
David Lively: We do have a lot of competition from local producers. People gardening at home, farmers markets, and CSAs definitely all reduce our sales during the local growing season. We have accounts that buy $20,000 a week in January and only $5,000 a week in August.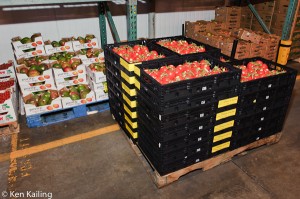 We feel the local competition in the summer and that spreads out to organic producers in California. They slow down their production in the summer because markets farther away are not buying; those markets deal with their own local growers.
Full Circle Farm is a unique example. [Editor's note: Full Circle Farms provides home delivery of fruits and vegetables year round to more than 12,000 customers in Puget Sound, northwestern Washington, and Alaska.] Full Circle provides a complete offering of produce for their customers all year. In the summer they're both a competitor and a supplier, and year 'round they're a wholesale account.
We have a similar relationship with other growers. One supplier, for example, sells about half of his season's production through OGC and we distribute it. The other half is sold through farmers markets.
The natural food stores and food co-ops – we sell to all 13 food co-ops in the Pacific Northwest – need to differentiate themselves from conventional retailers and offering local produce is one way they can do it.
Because local growers are really important to the organic movement, we honor them. All we can do is respect them and distance ourselves. We just plan that our retailers will buy local during the growing season and after the season ends – after it freezes – they'll be back with us.
(Return to the top of the page.)
GoodFood World: Pricing is an area that can be really confusing to consumers. How do you work with your growers to set fair, yet market-competitive, prices?
David Lively: Let's start with my definition of produce: fruits and vegetables that have been detached from the plant and can no longer access its nutrients. In other words, once the fruit or vegetable is no longer on the plant, it is in the process of dying. The question is whether you can get it to market and into someone's home before there are no nutrients left.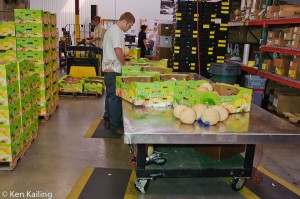 Fresh produce is part of a nearly pure supply and demand system. First the grower looks at how much supply he has. Then he looks at the market availability and price. If there is less supply than demand, he sets a higher price. If there is more supply than demand, he will set a lower price.
Because we know what growers in the open market are asking for their products, we share the market prices with our growers. Prices are being adjusted not only daily; sometimes they change hourly. It is all based on volume.
When we get products into our warehouses, we process them and add our margin/markup too. While we can set a mark up goal, we may need to adjust our prices and take less. When the market is good and we have a lot of very fresh products, we sell high. A week later we may have too much or sales are slow and we have to call a discount house to get what we can.
The retailer then adds his mark up/margin too. The retailer's gross margin has moved up over the years. It is really a factor of the number of items in today's produce section.
When I was a kid, produce selections were very small; there were only a couple of apples (red delicious and something else), a couple of potatoes (white and red), just a few varieties across the board. Now there are hundreds of items and a lot of those items simply don't sell.
When a retailer puts out something like cactus leaves, habanero peppers, or plantains, they throw most of them away. How do they cover the cost? They mark everything else up more to cover their shrinkage.
Price really has nothing to do with the cost of production. The market simply won't pay you for production. Even if it costs you $8 a pound to produce something and the rest of the growers do it for $4 a pound, you'll get $4. The consumer isn't going to pay you $8 just because it costs you more to produce something than the rest of the suppliers.
Farmers have to look at their profits over a long time, sometimes as long as 10 years. Some are really bad years where they lost their shirts, some years they just about break-even, and then some years they make a lot of money. If a farmer is profitable over the long run, he's successful.
(Return to the top of the page.)
GoodFood World: Seasonal worker issues are moving to the forefront; how are you dealing with issues of social equity and worker welfare?
David Lively: In the beginning, when the organic program was being developed, there was a lot of discussion about whether a labor aspect should be included. The growers pushed back and asked that it not be included. Most of them were just flat out broke. They couldn't afford insurance for themselves; how were they going to pay insurance for their workers?
That's still true to some degree. But the reality is, we have all these people who grow and harvest our food and yet they can't afford to buy anything they produce. We're acutely aware of it and our growers are aware.
Washington and Oregon have the two highest minimum wages in the US, and our farm workers are paid relatively better compared to other states. If a farmer doesn't pay them enough, they can get a job somewhere else where they can get better pay. It's still a big issue for both farmers and workers.
Through a program called GROW we are helping workers who grow and harvest our bananas in Mexico and Ecuador with educational and medical assistance. For each box of bananas, a retailer will pay 60¢ that goes directly into a fund. Over the last 4 years, our sales of GROW bananas contributed $378,282 to the program.
This year we started to research a new program called ¡Salud!, which is a collaboration between Oregon winemakers and Tuality Healthcare that provides health care services for Oregon's seasonal vineyard workers and their families.
For more than 16 years, the program has been supported entirely by ¡Salud! The Oregon Pinot Noir Auction. Every year, the auction focuses on Oregon Pinot Noirs created exclusively for the auction and not available on the open market.
The auction raises $600,000 to $800,000 for the program, which provides more than 3000 workers and their families with special health care cards for use at local hospitals and clinics. The program also sends nurses into the field to provide general health and wellness services such as blood pressure testing, administering shots, general checkups, etc.
A key measurement that indicates the program is working is a drop in the number of emergency room visits by this community segment. People are getting care earlier and get basic services rather than having to use emergency services.
At Organically Grown, we are looking at developing some kind of program that can provide similar services.
For more information, visit the Organically Grown Company website.