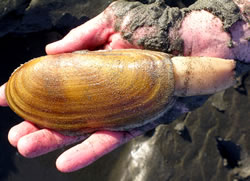 Forget high tech, forget "Big Ag;" there are still hunter/gatherers at work on Washington's Pacific coast. Pacific razor clams (Liliqua patula) grow wild on ocean beaches; they can't be commercially grown in Puget Sound like oysters and other clams including geoducks. They are harvested with a bucket and a shovel, by hand.
Says Captain "Oyster Bill" Whitbeck, market manager for Taylor Shellfish Farms, "We'd love to be able to grow razor clams in Puget Sound, but they require open ocean conditions. Razor clams grow in fluid sandy beaches in the coastal surf zone; they simply won't grow in the Sound."
Every year, the Washington Department of Fish and Wildlife allows one commercial season of 6 to 8 weeks and one or more recreational seasons of 2 to 4 days each. This year a second razor clam recreational season opens Friday, November 5, and a potential third season later in the month may open for two beaches.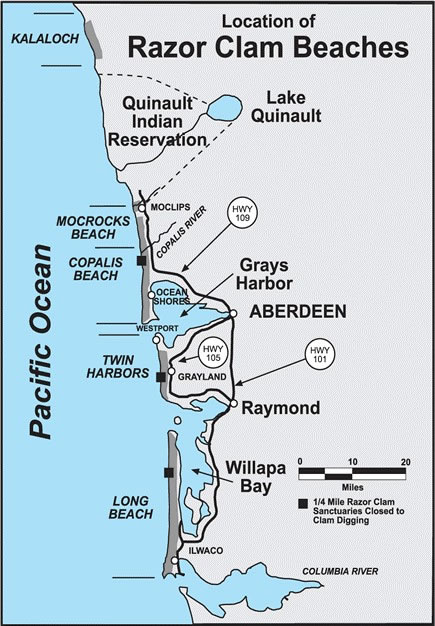 Recreational Harvest
Digging razor clams on the coast is big business; bigger than the commercial razor clam fishery by far. A recent analysis of the 2009-10 recreational razor clam season estimated that clamming contributed $27 million to Washington's economy with much of that money spent in coastal communities hardest hit by the recent recession.
During the 2009-2010 recreational season (ended June 2010) more than 3.8 million clams were harvested. At an estimated 5 clams to the pound, that's more than 760,000 pounds. During 283,000 "digger trips," the average harvest was 13.4 clams per trip.
The average expenditure per party, calculated in a 2008 survey conducted by the University of Washington, was between $269 and $412, and the fishery supports more than 400 full-time equivalent jobs and $12.6 million in labor income.
While technically recreational licenses could be used to collect and sell razor clams commercially, the lack of overlap between the two seasons insures that recreationally harvested clams are not going to make it to market.
Clam diggers over the age of 15 must be licensed by the Department of Fish and Wildlife – cost: $12 resident/$27.60 non-resident – and must stay within the daily limit of "first 15 clams dug, regardless of size or condition." Enforced is also a 1-day limit for possession of clams, unless they are frozen hard or cooked.
Razor clams grow up to 6 inches on the average, though clams as large as 7 inches long have been taken. Most often the clams harvested are between 3 and 5 inches long.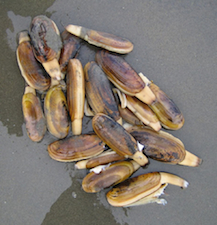 The last commercial fishery harvesting razor clams on an ocean beach was in 1968; the only commercial digging of razor clams takes place now on various islands of sand (detached spits) in and around Willapa Bay and Grays Harbor.
Since the late 1980s, the season for commercial razor clam harvest has been 6 to 8 weeks beginning in May, after the close of the spring recreational season.
The 2009 commercial season lasted 51 days, from May 11 through June 30, and diggers landed a record 250,000 pounds of clams at a value of just over $407,000. An average of 46 diggers landed about 105 pounds of clams a day.
All diggers must have a Washington Department of Fish and Wildlife Commercial Razor Clam license – which costs $130 for a resident license and $185 for a non-resident license. In 2009, 185 resident and 4 non-resident licenses were issued. Diggers must also register with a Department of Health certified razor clam dealer, or be certified as an individual dealer by the Department of Health.
Shellfish Safety
Razor clams are a form of "filter feeding shellfish" that consumes algae as food. Some algae produce toxins that can accumulate in the meat and make people who eat it sick or even cause death. The toxins can bring about Amnesic Shellfish Poisoning (ASP) or Paralytic Shellfish Poisoning (PSP). ASP is caused by demoic acid and PSP is caused by saxitoxin, both neurotoxins. Neither has an antidote, neither is destroyed by cooking or freezing, and neither is easily detectable outside of testing by the Department of Health.
Three times the razor clam fishery has been closed for a full season and many times for shorter periods as a result of detecting demoic acid or saxitoxin in the clam's meat. The good news is that the presence of these toxins has been extremely low during recent years.
Taylor Shellfish Farms, growers of oyster, clams, mussels and geoduck in Puget Sound
The history of Washington's commercial razor clam history
2009 Commercial Razor Clam Fishery Report, WA Department of Fish and Wildlife