"Shellfish – a delicious, healthy, sustainable resource that enriches our environment, our culture, and our economy."

Pacific Coast Shellfish Growers Association
Oysters' "Environmental Services"
While discriminating diners consider a platter full of oysters on the half shell a treat, most don't realize those bivalves provided a necessary environmental service by filtering and cleaning the water in which they lived.
Shellfish, and oysters in particular, filter water very effectively – filtering 20 to 30 quarts of water an hour – and can quickly clean muddy or polluted water. By the very act of feeding, shellfish filter phytoplankton (nutrients including nitrogen and phosphorous) out of the water, cleaning and clarifying it.
Washington's Puget Sound produces clams and oysters that are considered among the highest quality and safest seafood products in the world. Governor Christine Gregoire and the State of Washington recently recognized a valuable partnership with the region's shellfish growers.
Shellfish growers carefully monitor the water quality in the Sound. Heavy rain, agricultural runoff, or oil spills will all trigger closure of oyster beds. Because the water is filtered through the oyster's body, any toxins or pollutants can affect the meat. Daily testing of water quality monitors the beds and potential contamination is caught at the earliest possible moment thus preventing the sale of inedible oysters.
No shoreland, even that in Puget Sound, is free from the risk of spills. While big spills from oil tankers are a concern for regional shellfish farmers, it's the ongoing day-to-day drainage of oil, gasoline, and other chemicals that come into the Sound that cause a "slow motion" oil spill.
Run off from freeways, drainage from storm drains, oil leaks from cars; all mean that a lot of oil and other chemicals are getting into the water. It's just very dilute and comes from many, many different sources.
Puget Sound shellfish growers became actively involved in water quality and other environmental issues in the 1920s, when run off from a pulp mill in the town of Shelton WA destroyed oyster beds in nearby Oakland Bay. To this day, they closely monitor pollution and are on the front line when it comes to identifying and containing local pollution and runoff as well as oil and chemical spills.
Poaching Oysters – Preparation or Harvest?
Oysters for most North Americans are a luxury food; we eat them for special occasions, in special restaurants, or prepare them at home in special dishes. Even though shellfish growers in the Pacific Northwest sell more than $100 million of oysters a year, demand often outstrips supply.
Because oysters can sell for $8 a dozen or more in grocery stores and more than $1 apiece in restaurants, a big poaching and black market business has developed in Puget Sound to harvest oysters locally and sell them anywhere across the country or around the globe.
Every bag of shellfish is required to have a certification tag that identifies the date of harvest, the name of harvester, and the location from which they were taken. If someone becomes sick, the tag is used to trace the harvest. Unfortunately the tags can be falsified or reused.
In a recent case, poachers illegally harvested at an estimated 300,000 oysters and 1,000 pounds of hard-shell clams from Puget Sound's Hood Canal. Inspectors found truckloads of oysters without the certifying tags and began an undercover investigation that lasted seven months.
Unfortunately, poachers have very little regard for shellfish safety. While no one has died of paralytic shellfish poisoning (PSP) in Washington since the 1940s, the marine toxin that causes PSP, known as "Red Tide," is found in Puget Sound waters every year.
More common is a nasty intestinal disease called Vibriosis, caused by eating undercooked shellfish. Last year there were 49 confirmed cases in Washington from oysters alone.
Taylor Shellfish Farms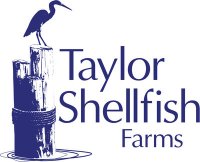 Taylor Shellfish Farms, now managed by Bill and Paul Taylor, has a long family history of growing and harvesting shellfish, and leadership in regional water quality initiatives. In the 1880s, J.Y. Waldrip – the Taylor's great-grandfather and an erstwhile rancher and gold miner – settled in Puget Sound to farm Olympic oysters. Today, a fifth generation is involved in the family operation.
Taylor Shellfish Farms covers a total of 3 ½ square miles of tide flats located primarily in Puget Sound with another farm on Willapa Bay in southwest Washington. The farms employ more than 400 to raise, harvest, and process a wide variety of shellfish, including Eastern, Pacific, Olympic and Kumamoto oysters, Manila clams, Mediterranean mussels, and Puget Sound geoduck.
While the Taylor farms are not certified organic or Marine Stewardship Council (MSC) certified, growing methods in all but one of the Taylor Shellfish Farms are essentially organic, with no chemical input or post harvest treatment. One farm is currently treating the beds for burrowing shrimp, and farm management is actively searching for new ways to treat the pests. "We farm our shellfish sustainably," says Bill Taylor. "There are no inputs in all but one of our farms and it's very careful controlled there."
It's not just oysters that are grown in the Pacific Northwest; a native bivalve – the geoduck – is a relatively new addition to the fisheries. Geoducks are the largest burrowing clam in the world, and Washington shellfish growers have only been raising them since 1991. Taylor Shellfish Farms have been marketing them for less than a decade.
Raising and harvesting geoduck is not a short-term proposition! It takes nearly five years before they weigh 1 ½ to 2 pounds, a saleable weight. And because they burrow underground and extend a neck that is 3 feet long to the surface, they must be harvested by hand.
Good Food and Clean Water
Shellfish growers like Taylor Shellfish Farms have been instrumentally in bringing back the rare Olympic oyster to the Pacific Northwest and have re-introduced the Puget Sound native geoduck – both highly sought after by connoisseurs of fine shellfish.
At the same time, they and other shellfish growers have been instrumental in protecting the quality of Puget Sound waters. For example, as part of the Clean Samish Initiative focused on Samish Watershed and Samish Bay, Taylor Shellfish Farms is working with the State of Washington Departments of Ecology, Natural Resources, Health, and Agriculture, as well as the Puget Sound Partnership, to reduce water pollution and improve water quality.
The Pacific Coast Shellfish Growers Association reminds us that shellfish is "A delicious, healthy, sustainable resource that enriches our environment, our culture, and our economy."