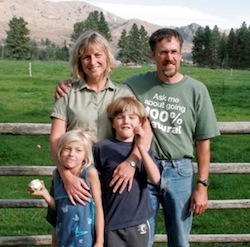 Jennifer Argraves and Louis Sukovaty are engineers by training – she, civil engineering; he, electrical/mechanical engineering – and combine their training with their passion: farming.
On Crown S Ranch, you will find grass-fed cattle, pigs, laying hens, chickens, and turkeys on our certified organic pastures in Washington State's Methow Valley. Argraves and Sukovaty combine traditional animal husbandry with new technology to create sustainable farming practices.
The couple cares for their animals as nature intended: with an abundance of lush green grass on rotated organic pastures, with plenty of clean water, sunshine, and fresh air.  There are no hormones, steroids, pesticides, genetically-modified feeds, or unhealthy grains given to any of the animals on Crown S Ranch.
On 150 acres, Argraves and Sukovaty raise and sell 24,000 pounds of beef, 12,900 pounds of pork, 6,000 pounds of chicken, 5,000 pounds of turkey, 4,500 dozen eggs, and 320 pounds of lamb. They also make 200 tons of hay and grow 20 tones of grain to feed their livestock.
The Crown S motto:
Better for the animals, better for the environment, and better for you!
For more information or to buy Crown S products, visit their website.