(Organic Trade Association press announcement)
Theresa Marquez of Organic Valley and Bob Quinn of Kamut® International received Organic Trade Association's (OTA's) prestigious Organic Leadership Awards for 2010 on October 15, during OTA Member Days activities at Natural Products Expo East.
"Theresa Marquez and Bob Quinn have shown outstanding initiative and devotion to organic, and their contributions clearly demonstrate how organic enterprises and agriculture can thrive and make a difference to consumers, farmers and to our planet," said OTA's Executive Director and CEO Christine Bushway.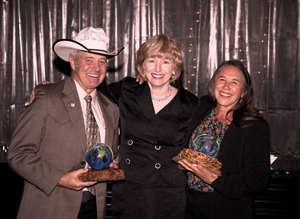 Marquez, Chief Marketing Executive of Organic Valley, received the OTA Organic Leadership Award in the "Growing the Organic Industry" category, while Quinn, President of Kamut® International, received the award in the "Growing Organic Agriculture" category.
The 2010 Organic Leadership Award recipients were honored at the OTA Annual Dinner and Dance during OTA Member Days activities at Natural Products Expo East in Boston. Each recipient received a hand-blown glass "planet" by artist Josh Simpson In special tributes to Quinn and Marquez, video messages from Senator Jon Tester of Montana and Deputy Secretary of Agriculture Kathleen Merrigan were played during the ceremonies.
Involved in organic agriculture since the 1970s, Quinn has devoted his career to building the "Kamut® Khorasan wheat" brand, a new organic crop which has become an organic stand-alone grain product as well as an ingredient in other organic breads and grain products. He has promoted organic agriculture throughout his home state of Montana, encouraging other farmers to go organic, and had has worked with his local land grant university to develop research helpful to organic agriculture. He has also introduced organic agricultural products and encouraged organic production in other countries. Quinn's company, Kamut® International, has been a member of OTA since 1998, and Quinn has contributed to OTA's public policy efforts.
Pointing out that buying organic food may mean paying a little more at the cash register and a lot less at the doctor's office, Quinn added, "We were put in this world to change the world – the only thing that matters is that we change it for the good."
Involved with the organic movement and emerging organic industry for the past 35 years, Marquez served on the Board of Directors of the Organic Foods Production Association of North America, the original organization that subsequently became OTA. She again served on OTA's Board of Directors from 2001 to 2009. She also was the founding president of The Organic Center. She joined Organic Valley's marketing efforts in 1995 when the business was selling $5 million. In 2009, it had grown to $523 million. Today, Organic Valley is America's largest organic farming cooperative, representing 1,631 farmers in 33 states and four Canadian provinces, and remains focused on its mission of saving family farms.
Marquez credited her mother for teaching her the connection between food and the earth. "We are living in the most remarkable time. The food system is broken," she said, adding, "We are the pioneers who are part of what it will take to fix it."
About the Organic Trade Association (OTA)
The Organic Trade Association (OTA) is the membership-based business association for organic agriculture and products in North America. Its members include growers, shippers, processors, certifiers, farmers' associations, distributors, importers, exporters, consultants, retailers and others. OTA's Board of Directors is democratically elected by its members. OTA's mission is to promote and protect the growth of organic trade to benefit the environment, farmers, the public and the economy.
For  more information go to www.ota.com.