Montana is not a state known for its dairies. In fact, you could probably count all the dairies – both cow and goat milk – on one hand. When you're the only goat dairy and cheese manufacturer in west central Montana, you get noticed.
At Amaltheia Organic Dairy in Belgrade, Mel and Sue Brown milk between 200 and 250 goats and produce award-winning organic cheeses that are sold across the United States. While the dairy and cheese plant may be small by some standards, size makes no difference when it comes to careful and sanitary handling of food products.
Food recalls and contaminated food products – whether produce, meat, eggs, or cheese – are in the news nearly every day. Most recently, The Food and Drug Administration (FDA) seized all the production from a small family cheese plant on the central Pacific coast in Washington after inspections discovered Listeria monocytogenes in both the cheese and the production area.
When a scientist becomes a farmer, he is keenly aware of safety and sanitation rules and requirements; Mel is trained as an embryologist. Bacteria are everywhere and when the wrong kind shows up in milk and cheese, it is serious. "If you have it, you have a problem – a big problem," he points out. "Listeria can make you sick, very sick."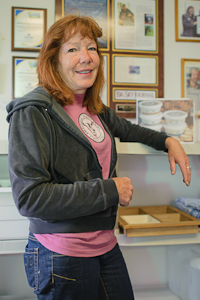 As a first step to making cheese at Amaltheia, milk is pasteurized to prevent the introduction of bacteria. "Selling fresh chevre made out of raw milk is risky," says Mel. "You need to age cheeses at least 60 days to kill any pathogens."
Food processing operations are regularly tested by both state and federal agencies because milk and milk products are the perfect medium in which to incubate bacteria. Montana's Department of Livestock, Milk & Egg Bureau, and the FDA are responsible.
Samples from every tank full of milk are sent to the state testing lab from Amaltheia, and state inspectors come to the plant to collect cheese samples twice a month. Federal inspectors generally come to the plant once a year, do a visual inspection, and remove cheese samples for testing.
On a busy workday in early September, FDA inspectors made their "routine" visit to Amaltheia. Garbed in hazmat suits, hair nets, face masks, and disposable gloves and booties, a team of inspectors examined the small cheese processing plant from top to bottom. This year they stayed 2 ½ days and collected 160 swab tests for chemical analysis.
The result? Once again Mel, Sue, and their cheese company passed with flying colors.
Is such intense inspection intrusive? Yes, it takes time, but according to Mel, "There definitely needs to be inspections. Whether you are large or small, you need to know the regulations. Milk is a delicate product and people make mistakes; no one is infallible. We want to make sure we are putting out a good healthy product. Everyone wants safe food."
The greater share of recent recalls and seizures of contaminated food products have occurred in large operations. Because small operations are intimately connected to their processes and products, they have an advantage over large operations. The fact that Sue and Mel have a positive working relationship with the inspectors both at a state and federal levels, helps make for a cooperative safety program.
Current rules in the making – if they disregard the special needs of small operators – could place unrealistic demands on them in time and cost. The regulations and the implementation of those regulations by inspectors need to be modeled to the scale of the operation.
Implementing good safety procedures requires effort and expense, but for a well-run dairy and cheese manufacturer like Amaltheia Dairy, it is simply the cost of doing business.
About Amaltheia Organic Dairy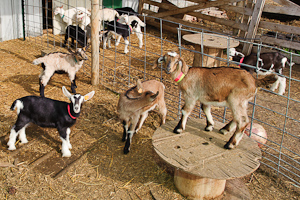 Mel and Sue have nearly 500 goats and milk between 200 and 250 every day – twice a day. Each goat produces about three-quarters of a gallon of milk a day, and together they deliver nearly 1000 pounds of milk each week.
Because it takes 5 pounds of milk to make 1 pound of cheese, Sue makes around 200 pounds of cheese a week. Altogether, there are 17 types of cheese with the Amaltheia brand on them; some are fresh (ricotta, chevre, and feta) and some are aged.
The cheese can be found on both coasts in health food and grocery stores and in restaurants around the country.
For more information visit Amaltheia Organic Dairy's website here.