(Today we introduce Richard Romano, our Northeast correspondent and blog contributor. On his first assignment, we sent Richard to survey the Natural Products Expo East tradeshow and conference in Boston. Watch for his articles, posts, and commentary. Following are his observations from the floor of the show.)
by Richard Romano, Special Editor, Northeast

2010 marks the 25th anniversary of Natural Products Expo East – the second largest North American natural products event (the largest is its sister show Natural Products West, March 2011, Anaheim CA) – held October 13-16 at the Boston Convention and Exhibition Center. The lousy economy may have kept some longterm exhibitors home, but the show floor was well-traveled, and new companies and startups had more room to stretch out and push their wares. (By one estimate, that of a West Coast editor from another publication with whom I shared a subway trip, this year's show was a fraction the size of the corresponding Anaheim show, and even a fraction of last year's East Coast show.)
And push their wares they did. Buyers clamoring for more gluten-free products would not be disappointed; although it may be an old trend, it remains alive and well—it seemed every other booth boldly proclaimed itself "gluten free." Even booths selling water. No, not really, but I wouldn't have been surprised.
Starting at the far right of Boston's World Trade Center, the first exhibitor I came across was Cheeky Monkey, an Israel-based seller of organic and kosher peanut butter puffs. This show marked their entree into the U.S. market, said Tzippi Witz, manager of marketing and business development, and their mission at the show was a distribution deal. The puffs were pretty good.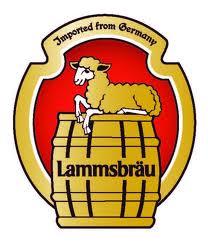 Down the same aisle, shining like a beacon, was Lammsbräu, a Bavaria-based brewer of organic beer. Well, that seemed like the best thing to wash down the peanut butter chips with. Their pilsner was pretty good. Given Bavaria's beer purity law, the idea of being "organic" may on the surface seem a bit superfluous. The fact is, "The Purity Law of 1516 does not mean that a beer is organic," said Stefan Hauke, U.S. sales rep for Lammsbräu, "all those ingredients that go into the beer can still have pesticides and herbicides. Organic beer must be made from organic grain, which means no pesticides, no herbicides."
One interesting thing I noticed at a few booths was that Omega-3 fatty acids are starting to appear in more and more places. For example, Organic Valley, a Wisconsin-based co-op that comprises farms in several states around the country, was selling Omega-3 milk. Curious as to whether it tasted like salmon (not that that would be a deal-breaker, mind you), director of public affairs Elizabeth Horton quickly corrected me, pointing out that that a common misconception. Still, Turke's Omega-3 Gourmet Foods, a brand-new company just entering the market whose slogan is "There's Nothing Fishy About Turke's…"- was giving out samples of its Omega-3-infused deli meats. According to company principal John Forde, the turkeys are raised by Amish farmers in the company's native Lancaster, PA. The company also has a line of other deli meats.
While I pondered the idea of a mutant salmon-turkey (salkey?), I went back to the Lammsbräu booth because I felt that I wasn't 100% clear on the German beer purity law.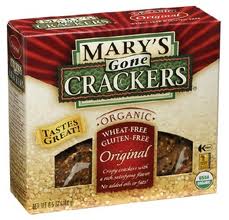 Perhaps the most common product  on the show floor were chips of all kinds – all organic, of course – predominantly made with gluten-free flour or corn. At the top of the heap were Gridley, CA's Mary's Gone Crackers, wheat-free and gluten-free.
The company was a small start-up that formed in 1994 when Mary Waldner, company founder, discovered she and her son had celiac disease, and could no longer digest wheat gluten. Always an avid baker, she began to experiment and created a line of crackers made without gluten. Her son, Jacob Farris, was diagnosed with the same disease and is in charge of Mary's Gone Crackers' sales and marketing development.
Not only gluten-free, but lactose-free was also on display at the show. I was starting to feel a little out of place for not having a food allergy of any kind. Redwood Hill Farm and Green Valley Organics were giving out samples of their lactose-free yogurt, which was very good. I shall have to recommend it to a friend of mine who is so lactose-intolerant he won't even let a milkman move into his neighborhood.
Speaking of yogurt, I had never heard of "pourable yogurt" before, but there were a few purveyors of it, including the aforementioned Organic Valley.
You know, I started thinking, I still wasn't really clear on German beer purity laws…
As I made my way through the center of the expo show floor, I thought, "Hm… this organic coconut cookie is pretty good." Oops, it was actually a face cleanser; I had wandered inadvertently into the health and beauty products portion of the show floor. But still… Before I could find my way back to the food, I was accosted by an exhibitor showing off a line of skin care products. She was disappointed when I told her that I was really only covering food, but I told her if I ran across anyone with skin, I'd send them her way.
Here's my question: why, oh why, in the middle of a food expo, where almost everyone was giving out samples, does there need to be… a food court?
Walking toward the end of the aisle, I saw a booth promoting "vegan seafood." Okay… you know, time for another lesson on German beer purity…
The purpose of Natural Products East, of course, was not just to make members of the media gain 50 pounds, but to educate attendees and give them free range – sorry, free rein – to conduct business. To those ends, the show management introduced some new features and programs to this year's show, including what it called a "matchmaking service," to pair buyers with appropriate sellers. A three-part seminar called the "Product-to-Shelf Workshop" offered a primer on what small companies need to know to launch a new product from initial financing to final distribution and sales.
Back on the show floor, small companies were generally struggling with distribution, but most cited the economy as one of the barriers to business. There was also some at-odds perceptions of where the market is going; some told me, for example, that the organic products market is expanding greatly, while others were of the opinion that it had plateaued a couple of years ago. You say potato…
Mmm… Potatoes…
Toward the far left of the hall were the non-food food products – cooking accessories, basically. One company was selling a line of bamboo bottles. I would have bought one, but I worry that my house would be overrun with pandas.
Continuing on… I sampled a really good cracker… oh, that was an organic dog treat. Oops. But still…
The show was very well-attended, even if it was smaller than in previous years. Launching or trying to grow a budding business in an economic environment like the present is not for the faint of heart, and the enthusiasm and dedication to their products on display at the Natural Products Expo East could serve as a lesson to entrepreneurs in all industries.
So to them I raise a small one-ounce sample of Lammsbräu, and bid them "Gluten Tag."