Editor's note:
There is global tension between special national interests among developed countries like the US, China, and Russia, who are trying to capitalize on resources, and small holders in less-developed countries like Ethiopia, where people are trying to restore indigenous local food economies and, along with them, the health and well-being of local populations.
Industrial agriculture and international trade has,  for the most part, been exploitative. Still there are now opportunities to strengthen local food systems by applying better education and appropriate technology to traditional practices in ways that restore the base – soil, water, and biodiversity – to improve health and enhance culture diversity.
For decades the juxtaposition of trade versus aid – and generally the model of "trade-not-aid" – has affected international policies regarding global commerce. More often than not, developing countries focus on growing and producing high value crops and products for export to the international market to maximize their incomes.
At the same time competition and subsidies in the target countries often force down the actual prices of those products while necessitating, for example, that the population of the developing country must import traditionally grown and processed food at higher cost.
Global trade has brought the world closer and food is being imported and exported every day, while small holder farmers have to struggle even harder for good food to maintain good health.
Ethiopian Agribusiness Targets High Value Markets with Ethiopian Chickpea and Oilseeds
The chickpea should be synonymous with Ethiopia.
Even in isolated rural outposts, the most popular dish among average Ethiopians – shiro – is a mix of blended spices and chickpea powder. When half of the 90 million Ethiopians refrain from animal products two days a week, the chickpea steps in to the local diet. Americans who come to Ethiopia fall in love with the chickpea too. Remember the first time you discovered hummus? Just get your hands on some spicy shiro!
In 2014, one million Ethiopian farmers produced over 450,000 metric tons (MT) of chickpea and exported around 60,000 MT. Ethiopia leads Africa in production and is sixth in the world, but low productivity and processing hinders the chickpea's path from farmer to consumer. And poor productivity and the lack of processing facilities greatly reduces the chances of putting quality chickpea on the international market.
Due to gaps in quality, Ethiopia chickpea exports go to lesser value markets. In addition, exporters sell to high volume food processing companies in India and Pakistan, where the chickpea end up bulked with other chickpea lots, losing their "Ethiopianess," one of the selling points for marketing the grain to high value markets.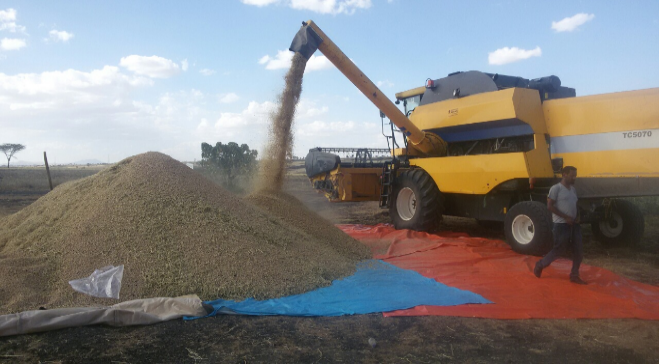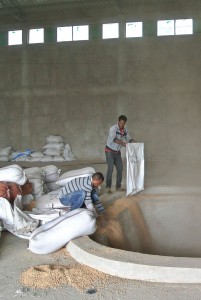 (Photo source: Bale Green farm in Bale, Oromia.)
Ethiopian food processor and exporter Agro Prom has made the first step in changing the course of Ethiopian chickpea history and established the country's first industrial chickpea processing and cleaning machine in Adama, 100 kilometers southwest of Addis Ababa. Agro Prom invested over $1 million in the warehouse and processing equipment while the US Agency for International Development (USAID), through President Obama's Feed the Future initiative, invested nearly $200,000 as part of a development aid innovation grants program. With the processing equipment, Agro Prom is poised to sell to the more demanding and higher value American, European, and Middle Eastern markets.
The machinery cleans chickpeas to above 99% purity using gravity separators and electromagnetic technology to remove soils and other impurities. While the Ethiopian chickpea is smaller than most chickpeas on the world market, it makes up for its small size with its rich taste. Within the next two years, Agro Prom plans to turn its cleaned and sorted chickpeas into value added products, especially hummus, before exporting.
"Quality is our biggest problem and is preventing us from entering the big markets. Yes, the Pakistanis buy from us, package it, and sell it for more to better markets. Now that will change. If we wanted to reach quality standards, we had to put up a quality machine. We now have that machine," says Agro Prom founder and CEO, Elias Geneti.
Agro Prom has been in the pulse and oilseed business for ten years and exported only 1000 MT of chickpeas in 2014. While the majority of Agro Prom's revenue comes from sesame, CEO Geneti sees this changing over the next five to ten years, as the company shifts its focus to chickpeas. Agro Prom's first export target in 2016 is 4000 MT of quality chickpea to high value markets such as the US and Europe.
Sustainable Sourcing
In 2005, Agro Prom became the first Ethiopian agro-processor to use contract farming with nearly 5000 smallholder sesame farmers in Northern Ethiopia. For chickpea, Agro Prom plans to use the same contract farming model to source grain for the new processing plant. Under the contract farming structure, Agro Prom provides financing, guarantees prices, provides on-site agronomists, and gives training to sesame farmers.
"Agro Prom is replicating the same contract farming model with Ethiopian chickpea farmers. We need to link the entire value chain to guarantee fair distribution of the benefits and nurture sustainability," says Geneti. "As the top chickpea producer in Africa, Ethiopia should be a major player in the export market. With higher returns, farmers will be less likely to turn to other less-valuable crops like cereals."
While USAID uses development funds to stimulate these types of investments, perhaps more valuable to Agro Prom is the program's initiative to link Agro Prom with two chickpea growing farmer unions, Erer and Lume. Agro Prom and the farmer unions signed contracts where each union will provide 1000 MT of chickpea to Agro Prom in the first year, an activity that benefits over 2000 farmers.
"Agro Prom is doing everything it can to work with local producers to guarantee quality chickpea for processing and has agreed to pay premium prices to the farmers," explains Geneti. Under the Agribusiness Market Development program, USAID approaches agriculture development by expanding the availability of certified seed, improving farmer cooperative management and marketing systems, increasing warehousing space, and stimulating the use and investment in new technologies, such as the processor.
Over the past four years, these activities reached over 13,500 chickpea farmers with training and activities and helped farmers sell approximately 5000 MT of chickpea valued, at farmgate, about $2.8 million.
"USAID's partnership with Agro Prom is a prime example of the new model of development in which the private sector is making big investments. These types of partnerships guarantee better prices for farmers and are important for the entire value chain," explains Dennis Weller, USAID Ethiopia's Director.
Under the contract farming agreement, Erer Union manager, Mekonnen Hailu, can guarantee income for two of the union's member primary cooperatives representing over 1000 farmers. "The advantages are that farmers do not have to worry about a market for their products and when they get better prices, they are encouraged to increase production," Hailu said. In 2016, Agro Prom and the chickpea farmers will increase the contract to 1500 MT, which will allow Erer FCU to incorporate more primary cooperative members into the chickpea value chain.
Farm Mechanization
Chickpea farmers also made history in 2015. Earlier this year, private chickpea farmer Million Meskele made the first mechanized chickpea harvest of 75 hectares with a combine harvester. Million owns the Bale Green farm located in the Oromia Region in Southeastern Ethiopia.
Chickpea is traditionally harvested by uprooting the entire plant. Pulling out the roots deprives soils of nitrogen-fixing benefits. The plants are collected, allowed to air dry, and then piles of chickpea are threshed on the ground using animals. The week-long process is arduous and the chickpeas suffer losses in both quality and quantity.
In February 2015, Million harvested, threshed, and winnowed 125 metric tons of chickpea with the combine. Area farmers came to watch so they too could understand the benefits and opportunities of the new farm machinery. These types of technologies improve the chances of reaching a higher quality grain and the ability to supply processors such as Agro Prom. In addition, the combine increases Bale Green's chickpea harvest by approximately 15% compared to a manual harvest.
The combine is also part of USAID's work in the chickpea sector, a matching grant worth $110,000 USD. Under the partnership, Bale Green also works as a chickpea certified seed multiplier and will distribute seeds to over 1000 farmers in his zone.
"This has been a great contribution to Bale Green and represents a turning point in the development of the chickpea agricultural sector. We will serve as a model for others trying to expand into mechanized farming," explains Million Meskele, owner of Bale Green.
Due to a lack of experience and market information systems, Ethiopian farmers are play a reactive role in choosing whether to increase chickpea production or not. In 2015, chickpea producers saw prices decrease creating a general distrust of the wider market, however when the price bounced back to an average price of $630 per metric ton, farmers rejoiced. If in-country market channels remain profitable and increase aggregation, you just might be eating Ethiopian shiro with your hummus.
---
About Nicholas Parkinson (Nico Parco)
Nicholas is an NGO writer based in Addis Ababa, Ethiopia. He has worked on agriculture-focused projects in Ethiopia, Uganda, Zambia, Somalia, and Liberia. He specializes in NGO documentation, communications, and PR, and teaches local writers how to create attention-grabbing stories for their NGOs.
A journalist, climber, husband, and father – as well as companion to Mino, a black and white dog – Nico has lived in several countries and speaks several languages. Today he focuses on writing, documenting, and story telling.
Here is a link to Nicholas' GoodFood World articles and commentary.