(Click on any image for a larger view.)
What a difference a century makes!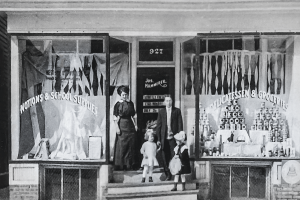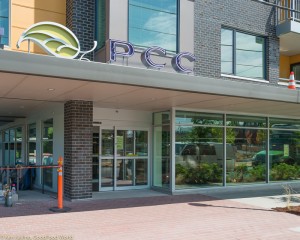 Hammerer's Delicatessen (ca. 1912), Milwaukee WI, and PCC Natural Markets Columbia City (2015), Seattle WA
Drive through the older neighborhoods in most cities and you will discover the ghosts of mom-and-pop corner groceries. The telltale architecture – large glass windows on each side of a door that may have actually opened onto the corner – is still visible.
The late nineteenth and early twentieth centuries were the golden age of the independent family-owned and operated shops. During periods of rapid population growth, families moved into neighborhoods segregated by class and ethnicity and into the suburbs created by the installation of streetcars.
To meet the needs of these new neighborhoods, small family-run stores sprang up, generally reflecting the surrounding ethnic demographics. They often carried familiar foods that were hard to find elsewhere and conducted business in the native language of the owners and their customers.
Just over 100 years ago, Joseph Hammerer and his wife (grandparents to GoodFood World co-publisher Ken Kailing) offered dry goods, groceries, and deli foods in a small Milwaukee WI shop, where they lived upstairs with two daughters.
Today the size and format may be considerably different, but the intent to serve the community is still the same. After exhausting all options for renovation, reconstruction, and expansion at its 30-year old Seward Park location, PCC Natural Markets, the nation's largest member-owned natural food co-op, chose to move just a mile away to the historic center of the Columbia City neighborhood.
Shuttering the Seward Park store the day before the opening of the new store – complete with a "singing farewell" by dedicated customers – staff, management, and shoppers celebrated with a ribbon-cutting ceremony on July 24, 2015.
What makes Columbia City PCC different?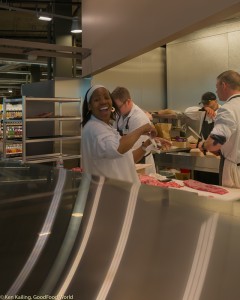 Known for its fresh produce, bulk selection, and wide offering of local and organic products, the PCC's newest store is not only built on the company's successes and new shopping trends, but also pulled a few ideas from the past to expand services.
Produce counters, cheese coolers, and a deli section are common to supermarkets of all sizes. The new Columbia City PCC reaches back to traditional corner groceries like that run by Joseph Hammerer to offer the PCC's first full service fresh meat and fish counter.
Today's prices might have given Mr. Hammerer apoplexy: Hammerer's Delicatessen and Grocery probably charged 22 to 30 cents per pound for beef. That was a time when a complete man's "neat oxford grey cashmere suit" could be had for just $4.85 from the 1912 Sears Catalog!
While a full-service fresh meat and seafood counter is something even Joseph Hammerer would recognize, there are some new –  very different – elements that have been added. A fresh pickle and sauerkraut bar, resembling the ubiquitous olive bar, displays fermented foods from a number of local producers: Olykraut, Firefly Kitchens, and Britt's Pickles, Kraut, and Kimchi.
Word Play
As you shop, pick up some oil or syrup from one of the custom-fitted stainless steel fustis in the bulk section. (Fusti: an airtight stainless steel tank or drum imported from Italy specifically for the storage of olive oil.)
And, for a bit of added fun, visit the woonerf that runs along side the new store. (Woonerf: a living street, as originally implemented in the Netherlands – shared space for cars and pedestrians with traffic calming devices and speeds restricted to a walking pace.)
Besides the wood-fired pizza oven, Columbia City PCC has added a new taqueria and noodle bar. And for those looking for custom made hot and cold drinks there is a drinks bar complete with kombucha on tap, and if you want to take a few bottles home, you will find one of the city's widest selections of kombucha on the PCC's shelves.
In one of Seattle's most diverse neighborhoods – described as a "neighborhood of nations" where descendants from European settlers, East African and Asian immigrants, Orthodox Jews, and other cultural groups make for a true melting pot – Columbia City PCC will need to adjust to reflect its shoppers. The first step has been to recruit and hire as diverse as staff as possible.
Listen to Darrell Vannoy, PCC's new VP of Merchandising and Procurement, discuss the changes and evolution of PCC Natural Markets and where the company – and food retailing – may be in 30 years, in Magical Thinking: PCC in 30 Years.
PCC is green and getting greener.
Columbia City PCC has more than a dozen "eco-elements" built into the store. The first WiseERG food scrap harvester in the city of Seattle is located on site. As part of a pilot program with Seattle Public Utilities, two different technologies to process food waste are being tested. Data will be collected for a year and at the end of 2016 a report will share information with other businesses in the city.
Building materials are mostly recycled:
wall tiles – a mix of 70% recycled glass, granite, and porcelain
custom cabinets – 100% recycled wood fiber or 100% renewable bamboo
check stand countertops – made of cork
most floors – ceramic tile or concrete slab, eliminating the need for waxing and stripping
steel grocery shelves – 90% recycled steel
plumbing and refrigeration piping – 100% recycled copper
Commuting staff have access to secure covered bike racks and a shower, Central Link light rail is a 5-minute walk, and a convenient bus route is 1 block away.
Doing well, by doing good.
Founded in 1953 PCC Natural Markets has become the recognized model of success in cooperatively-owned food retail.
With 10 stores, PCC is a successful business growing by double digits year after year – sales increased to $229.8 million in 2014, up 14.6% over 2013's revenue of $200.5 million, an increase of 12% over 2012's revenue of $179.0 million.
And, next year (2016), PCC will open a new 25,000 square foot store in Bothell WA. The Bothell PCC will be the grocery retailer's eleventh location in the greater Seattle metropolitan area. PCC expects to employ approximately 130 full and part-time employees at the new store.