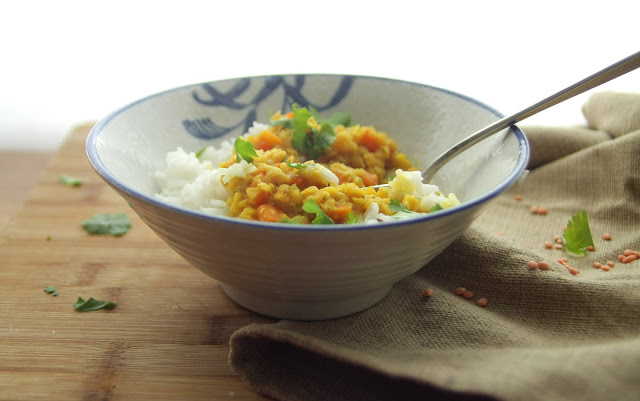 I opted to use crimson lentils for this dal, and I'm glad I did – the result was this delicious, bright yellow dish that is pleasing to look at and fun to eat. Yes it's essentially lentil mush, but the prettiest tastiest lentil mush you ever did see. The lentils are pink to start (you can see some scattered to the right in this photo) but after cooking they turn yellow. Throw in tumeric and carrots and things start to get really wild.
I didn't soak these lentils (or even rinse them, although it's recommended) as the package didn't indicate that I needed to. They cooked up quite quickly and I loved the texture. It has taken me a few turns at cooking lentils to realize that the splitting is not necessarily a bad thing. The lentils don't split at the expense of texture. If I were making a cold salad I might take greater care in cooking them to preserve their shape, but even then the decision would be mostly aesthetic. That's next on my lentil list, but for now I'm happy sticking them in soups and dishes like this dal.
This is a quick and healthy lunch – lentils are high in protein, low in fat, with some vitamins and minerals thrown in there too. If you want to be uber-healthy serve the dal over brown rice or with some whole grain flat bread.
Sunny Crimson Dal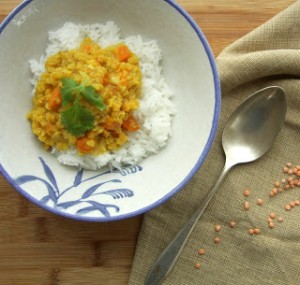 1 cup petit crimson lentils
2 1/2 cups water
2 Tablespoons butter
1 large carrot, diced
1 small onion, diced
1 large garlic clove, minced
1 teaspoon broth base or one chicken or vegetable flavored boullion cube
1/2 teaspoon cumin
1/2 teaspoon tumeric
1/2 teaspoon salt
1/4 teaspoon white pepper
1/4 teaspoon garam masala
lemon juice to taste
basmati rice, to serve
fresh cilantro to garnish
In a medium saucepan, melt the butter on medium heat. Add the garlic and cook until fragrant, then add the onions and carrot. Put the lid on and sweat the vegetables for a few minutes.
Next add the lentils and water. Bring to a light boil, then cover and simmer until the lentils are cooked (about 6 minutes). They should be soft and broken with some extra cooking liquid in the pot.
Add the broth base, spices, and a good squeeze of lemon; stir it up.
Serve over basmati or jasmine rice with a garnish of cilantro.