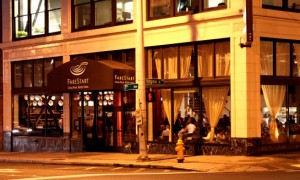 On the corner of Seventh Avenue and Virginia Street in Seattle is a restaurant. It's a restaurant much like many other downtown restaurants: tall glass windows, comfortable seating, a view into a bustling kitchen and a creative – sometimes edgy – menu.
But there is something that makes this restaurant different. No, it's not the menu – though it changes weekly – nor is it the chef, because he or she changes weekly too.
FareStart, a culinary job training and placement program for homeless and disadvantaged individuals, offers a catering service, and serves lunches and dinners in a fine dining restaurant. In the 16-week training program, students experience hands-on food-service training with classroom instruction, and benefit from individual case management and job placement services.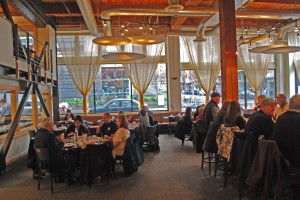 The FareStart website reminds us that, "On any given night, there are 8,000 homeless men, women, and children in the suburban cities, urban centers, and rural towns of King County, including over 2,500 individuals who meet the federal definition for chronically homeless."
Over the past 20 years, FareStart has provided opportunities for nearly 6,000 people to transform their lives. In 2012, 180 students graduated from the program (that's 3 to 4 each week!) and 85% of the adult graduates got jobs within 90 days of their graduation. Success rates like that challenge those of any professional culinary school!
Last night we enjoyed dinner at the FareStart restaurant and our waiter was Joe Rogoff; charming, accommodating, but a little wet behind the ears when it comes to table service.
No, Joe hasn't had to take up moonlighting – his day job as Whole Foods Market's Regional President, Pacific Northwest Region, keeps him plenty busy. Joe was part of a team of volunteers staffing the restaurant for the weekly FareStart Guest Chef Night. This week's guest chefs were Ferron Lining and Hayden Smissen from Whole Foods Market on Westlake Avenue, just a few blocks from FareStart.
Our menu for the evening:
Starter – Peanut Chili Soup, with fresh mint, lime and tomato.
Entrée – Braised Five Spice Short Rib, sriracha reduction on a chow mein noodle cake and seasonal vegetables. The vegetarian alternative was baked tofu and a pesto sauce on the same noodle cake and seasonal vegetables.
Dessert – Lemongrass Coconut Rice Pudding Ice Cream, with ginger mango coulis and shaved coconut candy.
Blend that with a local treat, Dry Soda (our choices: lavender and juniper berry), and you have a grand combination!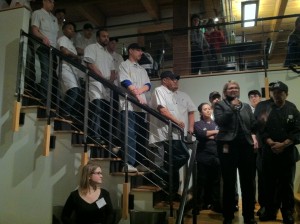 Each week at 7PM – the peak of activity during Guest Chef Night – all action stops and all voices are silent as Megan Karch, FareStart CEO, introduces graduating students or recent graduates to the room full of diners.
Each graduate is a success story; to have come from homelessness and often alcohol or drug addiction to a new beginning with job opportunities that will earn them a living wage, is indeed a story of hard work and perseverance. And reflects the support of a community!
A special tip of the hat to the Whole Foods Pacific Northwest Region team! Community Giving is just one part of the Whole Foods mission and values, and at FareStart the team clearly enjoyed their part in supporting this very important project.
Visit the FareStart website to learn more about the training program, the restaurant and café, and their successes.
Read the Edible Seattle story of Joey Brewer, a FareStart student, here. It is both encouraging and very sad, because Brewer passed away just before his story made it to the newsstands.
Exterior photo: Whitney Wu
Interior photo: A Theology of Wine