She's back! Lea is once again telling us about her "Sheep Raising Adventures – and Misadventures." Here is a special message from her: Note to my readers at GoodFood World.
________________________________________
1982 – (Cont'd)
October 10 – It was breeding season once again. With the addition of the 18 ewe lambs retained the previous year, we now had 79 mature ewes, which were put out with the ram on October 10. The 10 ewe lambs retained from this year's lamb crop were turned out with a half-sibling ram lamb on November 1st. The coming year was looking to be a busy one, for sure! But I was already looking forward to it!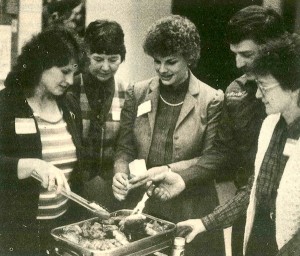 November 6 – SEMSPA's Lamb and Wool Promotion Committee conducted a two-day lamb tasting event at the Hy-Vee North in Rochester. Six boned and rolled legs of lamb were donated by Wilson & Co, roasted by the Hy-Vee staff, and served to the public by our committee members Carol Ring, Dennis Nelson, Bonnie Bosma, Mary Schnorenberg, Pat Kramer, and Randi Peterson, who rotated shifts over the two days. We supplied the store with informational brochures, as well as a variety of lamb recipes. Hy-Vee's "Leg of Lamb" sales more than tripled during this event.
November 23 – The Annual Meeting of the MN State Sheep Association, "The MN Lamb and Wool Producers," was held in Pipestone, Minnesota, at the Pipestone Technical College. During the two-day program, I was presented with the 1982 Silver Bell Award by Dr. Robert Jordan, Professor of Animal Science at the University of Minnesota.
Slides of my farm, pastures, and sheep were shown accompanied by remarks by Dr. Jordan on why I was selected for the award. Criteria for the award included: enthusiasm for the industry, involvement, helping others get started in sheep, improvement of handling facilities, pastures, and innovative marketing. Dr. Jordan stated that he was looking for innovation and he found it at the McEvilly farm.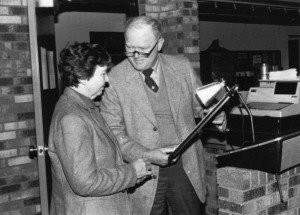 It was an interesting and enjoyable day, following the presentation of my award, the "Make It With Wool (MIWW)" contest winners were introduced and each in turn modeled the wool outfits they had designed and constructed. The beautiful all-wool garments were much appreciated and applauded by the audience.
During my two-day stay in Pipestone I was royally entertained by Dwight Holloway of the Pipestone Technical School program and friend Pat Beyers, reporter for the Pipestone County Star. The paper published an edition featuring the Silver Bell Award and the MIWW Contest Winners.
After my return home, our local southeast Minnesota papers, including the Caledonia Argus, Winona Daily News, and The Houston Gazette, and also the LaCrosse (WI) Tribune published articles and pictures of the Silver Bell Award. I was a local celebrity!
December 11 – SEMSPA's Fourth Annual Meeting was held in Rochester. During the morning business session, I reported to the Board of Directors on the activities of the Lamb and Wool Promotion Committee, and the results of our efforts. My report was well received, which was a good omen for the committee's future!
After a delicious lamb curry luncheon was served, it was time for the speakers of the day: Dr. Dave Blahna of the Dodge Vet Clinic, Dodge Center, MN, speaking on "Pneumonia in Lambs"; Hugh Kramer, SEMSPA's President and owner of 'K Fence', speaking on "Electric Fencing Fundamentals"; and Lea McEvilly, Silver Bell Award Winner, speaking on her "Sheep Raising Adventures – and Misadventures".
I had a lot of fun with that speech, telling them about my early foibles in the sheep raising field and some of the hard won battles that were fought with the ultimate victory in the end. During the speech, I introduced two of my sisters who were in attendance, and unbeknownst to them, held up an "APPLAUSE" sign when I asked them to stand. Of course, they were totally at a loss as to how to respond when the room exploded into clapping, cheers, and whistles! What fun! It brought down the house!
Hugh Kramer, when he was approached about speaking, had specified that he would, provided that he be allowed to speak first, as he did not want to follow Lea McEvilly's speech! Somehow, during the morning session things got changed around, and I was now slated to speak first. So, after I finished my speech, and the room had settled down a bit, Hugh got up to speak, and stated that he had agreed to speak only on the condition that he spoke first, and did not have to follow Lea McEvilly, and was totally bummed out as now here he was following Lea McEvilly after all! More laughter! It was a fun day! Hugh recovered, and gave a very good and informative talk on the mysteries of electric fencing for sheep, which was still relatively new to most producers.
December 20 – The last Corn Belt Tele-Auction of the year took place, and the results for the year were impressive!
Christmas – Lisa was home from College, time for us to kick back, relax, enjoy, and count our many blessings! All in all, it had been a very good year!
By the end of 1982, in addition to the sales of Tele-Auction lambs, locker lambs, and breeding stock, I had taken in over $500 in tanned lamb pelt sales and had a growing clientele for the lamb summer sausage which my locker now made for me.