Standing Rib Roast in Red Wine Sauce
While a rib roast may seem like a real luxury, it is simple to prepare. Start – always! – with meat from a pastured animal fed only on grass.
We serve only Crown S Ranch's beef. While many will tell you it's not possible to get a nicely marbled piece of meat from a cow that eats only grass, we show you that's not the case! This roast clearly has the fat required of a rib roast.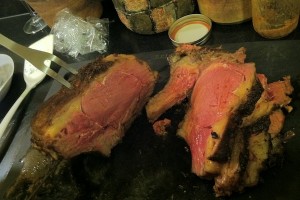 This recipe feeds four generously – very generously!
1 grassfed beef rib roast (about 4 pounds)
3 cloves garlic
kosher salt
1 tsp freshly ground black pepper
1 tbs sweet smoked Spanish paprika
2 tbs heavy cream (optional)
Remove the meat from the refrigerator and blot it dry on all sides. Cut each garlic clove into slivers. Using a sharp paring knife, make cuts into the fat parallel to the meat but not piercing it. As you make each cut, insert a garlic sliver into it.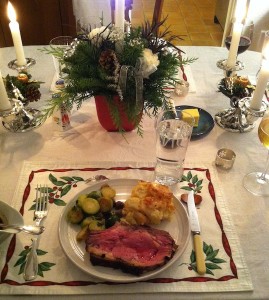 Blend 1 tsp salt, the pepper, and the paprika in a small bowl. Sprinkle this onto every side of the meat and rub it in. Let the meat rest at room temperature for 45 minutes to 1 hour.
Meanwhile, heat the oven to 450 degrees. Select a roasting pan that just holds the meat, as one that is too large will evaporate all the pan juices before you can recover them. A cast-iron frying pan will also do. Set the meat in the pan, fat side up.
Roast for 15 minutes at 450 degrees, then lower the heat to 350 degrees and roast for another 45 minutes until the internal temperature is between 125 and 130 degrees. (Larger roasts can take as much 40 minutes more to get to temperature.)
Remove the meat from the oven to a platter and let it rest for at least 15 minutes, during which time the internal temperature of the meat will increase to rare. If you prefer the meat more cooked, leave in the oven about 50 minutes.
While the meat is resting, put the roasting pan over medium-low heat and deglaze the pan with the red wine, scraping with a wooden spatula to loosen any browned bits and incorporate them into the sauce. Allow the wine to bubble slowly and reduce by about half, keeping an eye on it and stirring s necessary.
Remove the sauce from the heat and add the cream (optional), swirling it in to enrich the sauce. Taste the sauce for salt and correct, if necessary.
(Source: Good Meat, Deborah Krasner)