(Click on any image to see a larger version.)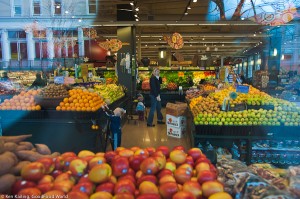 Walk into any of the nine PCC Natural Markets in Puget Sound and it's clear you're not in your parents' (or grandparents, if you're young enough) food co-op! No more cozy slightly run-down food markets with barrels of flour and bags of rice on the floor, around which barefoot children played tag while their parents debated politics and planned social actions against "the establishment."
Today, the PCC (as it's fondly referred to here in Seattle) is every bit the contemporary supermarket. So what is so special about the nation's largest natural food co-operative?
A Brief (Very) History of Food Co-ops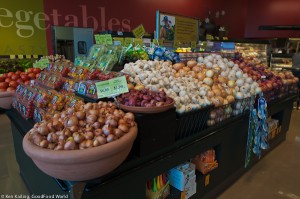 Food co-ops have always reflected contemporary culture and have changed as society changed. In 1844, when England was in the throes of the Industrial Revolution, a group of 28 cotton mill workers in Rochdale, England, pooled their resources and set up a store where they could buy food items – initially just flour, oatmeal, sugar, and butter – that they could not otherwise afford.
The principles under which the co-op was established are called the Rochdale Principles and the first food co-op in the US to follow the same principles was founded in Philadelphia in 1862. Most food co-ops today follow these principles.
A second wave – the "old wave" – of food co-ops developed during the Great Depression, again to provide good food at a reasonable price. They grew and prospered for a period, but only a few survive today.
Many of the food co-ops in existence today were founded in the late 1960s through the early 1980s during a third wave – the "new wave" – of cooperative development. The number of retail food co-ops grew rapidly and by 1975 there were about 700 in operation.1
Fourth Wave Co-operative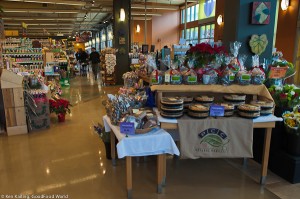 The PCC even predates the "third wave" of co-ops, it was founded in 1953 and, by managing change well, it has become the recognized model of success in cooperatively-owned food retail. Today the PCC has revenues exceeding $161 million and nearly 45,000 member/owners.
It was in the late 1980s and early 1990s that food co-ops began to see competition increase from natural food chains. It has become more and more difficult for both conventional and natural supermarkets to differentiate themselves and to compete.
Today, the retail food industry has evolved into an oligarchy where 4-6 supermarkets capture 60-70% of sales in a geographic market. Five supermarket chains sell more than 40% of all groceries, and Walmart alone captures 25% of all US grocery sales. In 29 metro areas, the Walmart accounts for more than half of all grocery spending.
There are now more than 9,000 natural products and health food stores, including retail food co-ops. These range from very small shops (less than 1000 square feet) to the "supernaturals" (supermarkets who sell natural products and health foods) such as Whole Foods Market (310 stores), Trader Joe's (365 stores), and large food co-ops like the PCC Natural Markets (9 stores), Seattle.2 Whether full-line supermarkets or small specialty or natural food stores, there are still only about 350 active retail food co-ops across the US.3
Setting Priorities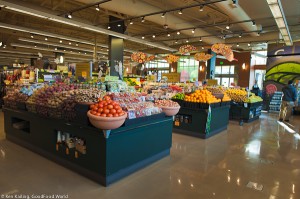 Food retailers subscribe to trade publications, blogs, and newsletters; attend conferences and trade shows; contract with research companies specializing in the food industry like The Hartman Group; and read dozens of books to try to find ways to sell more products to more customers. Some of those books have esoteric titles like "Marketing in the Soul Age," by Harvey Hartman of The Hartman Group. Clearly executives in the board rooms of conventional supermarkets and even the super-naturals are searching for ways to make deep connections with their customers. PCC's 45,000 member/owners are not only connected to the co-op by affection and respect, some of the households represented have invested in more than one $60 membership.
While supermarkets struggle to retain customers via any number of programs like "everyday low prices" and myriad other promotions, their executives and Boards of Directors keep strongly focused on profit and shareholder value. It's hard not to when more than half of your Board comes from the financial industry, as does that of Whole Foods (6 out of 11 members).
PCC's Board of Trustees and CEO Tracy Wolpert (who comes from a conventional supermarket background) have a different set of priorities: to challenge and champion standards that protect growers, producers, and consumers; to be a community leader while implementing practices that support people and the planet; to be a trusted source of information; and to grow responsibly. Note that is: "grow responsibly" not "as fast as possible."
The Key to Success: Live the Values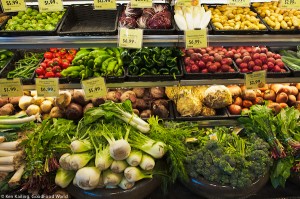 Stephen Tan, an environmental attorney, is currently a member of the PCC Board of Trustees and he brings a unique perspective to food: he is a conservation biologist. For him, food matters.
He believes that, like the butterfly flapping its wings on one side of the earth and causing a hurricane on the other, the decisions we make about the food we eat significantly influence trade with the rest of the world. When we make the choice to eat cheap shrimp from Indonesia4, beef from Australia, or yellow fin tuna "scrape" from India5, we "vote with our dollars" to sustain distribution networks that are supported by weak environmental, food safety, or labor laws.
At the same time, access – or the lack of it – to healthy food at affordable prices and the growing problem with "life-style" diseases like obesity and diabetes, dictates where we put our health care resources. The modern food industry has made our food cheap and plentiful, disguising the true cost. We live separated from our food sources and we're ignorant of the effort it takes to feed us or the role food plays in our lives.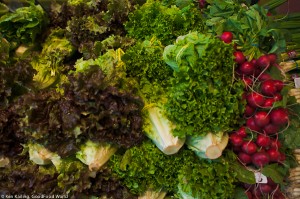 As a result, many companies operate without regard to the environmental and social consequences of their actions. They want us to believe they are good corporate citizens, but behind it they have a single-minded focus on profits. And those that do adopt sustainable business practices most often consider it a sacrifice. Few view consideration for the social and environmental affects of the production and use of their products or services as an investment in the future.
How does PCC "live the values" and "walk the talk?" Here are just a few of the major initiatives now in place.
May 8, 2012, the PCC announced the outcome of a unique partnership a local clean technology firm WISErg Corporation to develop and install an on-site food scrap "harvester." The output – technically the "waste" from the bio-digester – is a nutrient-rich liquid that is bottled and sold as a natural fertilizer.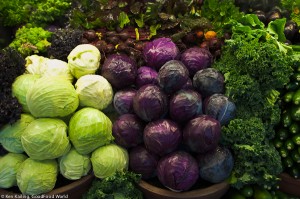 The PCC collaborates with organic producers to curb GMO contamination, monitors and supports GMO labeling legislation and, in 2011, joined with the Non-GMO Project to help keep genetically modified organisms (GMOs) out of the food supply.
In 2011, the PCC's Edmonds store, built in 2008, earned both LEED® Platinum and Salmon-Safe certifications, which recognized the building and grounds for features and operations that support human and environmental health.
In 1999, PCC Natural Markets founded the PCC Farmland Trust to preserve and protect threatened farmland in the Pacific Northwest, and to date the Trust has saved nine working organic farms, totaling 865 acres.
As Stephen Tan says, "At PCC, we believe that profitability, social responsibility, and environmental sustainability can be not only compatible, but mutually supportive. Meaningful success in one measure of performance can spur and foster achievement in others. PCC's commitment to this ethic makes it the unique business that it is."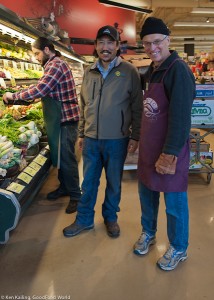 Looking to the Future
As the PCC plans its 10th store, it will:
Continue to "grow responsibly." The location of the new store will be carefully selected, the building constructed or renovated sustainably, and the product selection will reflect neighborhood preferences.
Maintain a regional focus that allows it to benefit from local economies of scale.
Build and maintain strong relationships with local farmers, producers, and wholesalers.
Through the PCC Farmland Trust, continue to protect agricultural land and support organic farmers.
Continue to campaign for transparency and labeling initiatives like the Non-GMO Project, identification of gluten-free products, and a requirement that personal care product manufacturers to comply with the NPA Natural Standards.
Looking to the co-op's 60th anniversary in 2013, it's obvious that it IS possible to do well by doing good.
——————————————
1 University of Connecticut, Food Marketing Policy Center, Haller, Lawrence. E. "Food Cooperatives." 1995 IP9.pdf
2 Natural Food Merchandiser's 2010 Market Overview
3 National Cooperative Business Association
4 Food Safety – Its a Global Issue, Food Safety News
5 Shrimp – The Truth, Orion Magazine
A very special thanks to Stephen Tan for his insight and input.