Known primarily for its spectacular castles and fortresses—not to mention the legend of Vlad the Impaler—Romania is also a country abundant in arable farmland. A former satellite of the Soviet Union, it started a new chapter of its statehood in 2007 when it gained membership in the European Union (EU). Its transformation from a Communist-led government to a free-market economy began in 1990, however, and the impact of this change on the landscape of the agricultural industry is evident. One sector in particular that has flourished is organic farming.
Data from Romania's Ministry of Agriculture and Rural Development indicates that the number of hectares of registered organic farmland grew from approximately 29,000 in 2001 to almost 200,000 in 2007. When compared to the nearly 700,000 hectares that have been converted to organic in the United Kingdom—a country of roughly the same size but three times the population—Romania's allocation of organically-farmed land may seem small but its rate of growth indicates that there is both interest and intent in adopting the practice.
Since 2007, the conversion pace has slowed—260,000 hectares are now deemed organic, said Ioana Stoenescu, a Marketing Assistant in the U.S. Department of Agriculture's Foreign Agricultural Service office in Bucharest. Still, the surface space of land that is under cultivation has increased by 42% since 2006, according to data provided by Stoenescu from Romania's Ministry of Agriculture.
One area that has not kept pace with the growth of production is local consumption. The cost of organic food in Romania can be up to 100% more expensive than non-organic food, according to Florin George Bana, a national mountain guide and tour leader. With an average salary of about $600 USD per month, Romanians aren't willing to pay the price for organics, even though they are increasingly conscious of their diets, said Bana.
This situation is evident at a food shop in the town square of Brasov, about 100 miles north of Bucharest. Despite the proclamation of 'organic fresh food' on the sign outside the door, cheese is the only organic product that is still sold at Baritiu 16. The shop used to have cereal, flour, sweets, pork and other meat, but there wasn't enough demand, said shop employee Melinte Simona. The shorter shelf life that is often associated with organic food products was another factor that contributed to the decision to cut back on the shop's organic inventory, according to Simona.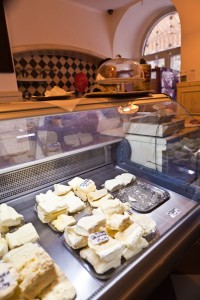 As a result of the low levels of domestic consumption, organic producers in Romania are currently exporting about 90% of their products. According to a 2008 U.S. Department of Agriculture report, they have had the greatest success with dairy and cereal products, and these items correspondingly account for the majority of organic production in the country.
Perhaps in part due to the high rate of export, Romania has virtually no organic processing facilities. In a 2008 report from Eurostat, a European Commission database, the numbers showed that Romania was home to just 66 processing facilities of the 4,633 facilities found throughout the 27 EU member states. The lack of availability of local processing could turn out to be a hindrance to the growth of the domestic market as products would have to be shipped back into the country after processing, an extra step in the supply chain that would add yet more to the retail price.
To build a domestic market for organic products, however, the prices need to move in the other direction, and income levels need to rise. Just two decades since the end of Communism, Romania's middle-class is still relatively new. With annual salaries that lag far behind the EU average, Romanian consumers often rely upon less-expensive Turkish imports, according to Bana, instead of domestically-grown fruits and vegetables—organic or otherwise—to fill their shopping baskets.
For now, organic producers will continue to find their markets outside their own borders. At the recent Natural Products Expo East in Baltimore, Maryland, eight Romanian companies were present, said Stoenescu, "with the aim to find American importers interested in Romanian products."
________________________________________
Photo credits: Francis Zera, Zera Photo