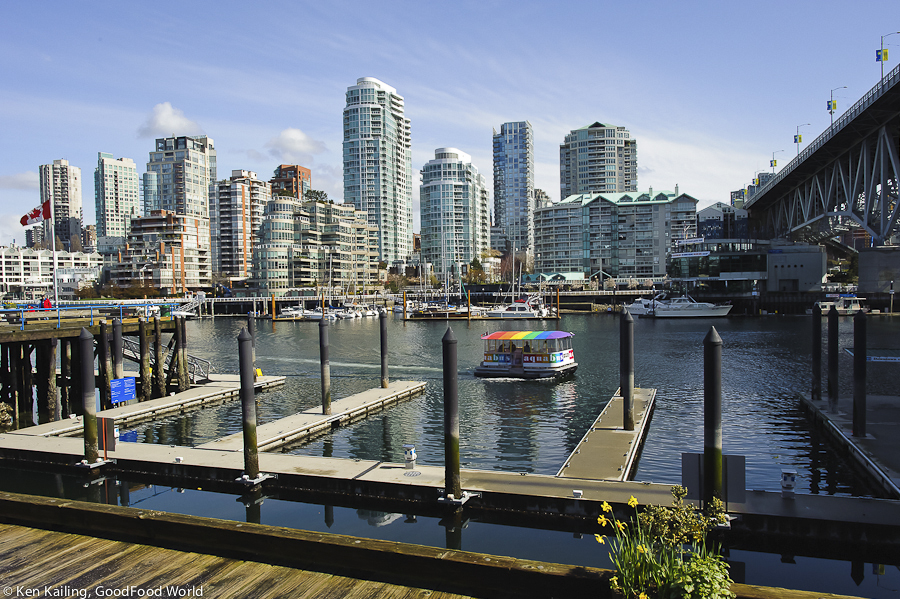 Granville Island Public Market is just a short water taxi ride from the sparkling, jewel-like towers of downtown Vancouver, British Columbia, and a comfortable stroll from neighborhoods of stately Victorian homes. The city is a beautiful contradiction and Granville Island – and the Public Market – was built to honor both the new and the old.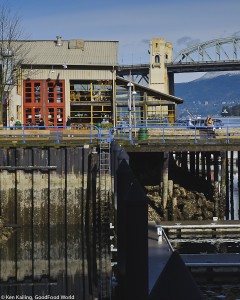 In the late 19th century, Granville Island was actually a sand bar and tide flat in the middle of False Creek, an inlet stretching into the heart of the city. By 1915, areas around the sand bar were filled in to create a peninsula that is the "island" today.
Granville Island was connected to the mainland by a road and a bridge and became an industrial area occupied by wooden buildings clad in corrugated tin. Factories made roof shingles, chain, barrels, wire rope, nails, saws, paint, cement, rivets, boilers and industrial machinery and employed 1,200 workers.
By the mid-20th century fire had destroyed many factories on the island and they were never rebuilt. Granville Island became a dilapidated eyesore and the federal government took control of the space and began a redevelopment program.
The original developers of the island envisioned a public space that today bears a remarkable resemblance to the original designs. Unlike Pike Place Market in Seattle, which grew from an original "farmers market" location, Granville Island was carefully planned and managed.
Lisa Ono, Manager of Public Affairs and Programming, Granville Island, filled us in on the original plans and the advantages and disadvantages of a planned facility.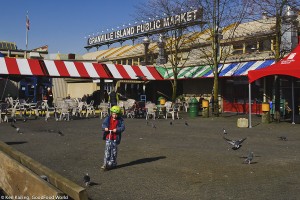 The original plan described a mix of uses including industries (there are still two manufacturing plants on the island), artists, public spaces and the Public Market. The plan deliberately left off sidewalks to encourage an exciting mélange of shoppers, artists, artisans, musicians, and vendors. Unfortunately, the amount of traffic flowing through the Island on a busy day puts pedestrians at risk of life and limb as they dodge a steady stream of cars, vans, trucks, and bicycles. Public transit serves the Island with convenient buses, bike paths, and water taxis; definitely time to rethink the car!
Looking to keep the historical flavor of the Island, the original planners repurposed as many of the original buildings as possible and new construction must reflect the same metal-clad design. Because Granville Island is made up of small businesses offering local and hand-made products, the feeling of authenticity attracts neighborhood residents and tourists alike.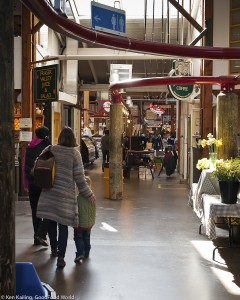 The planners who first put their vision to paper nearly 35 years ago were optimistic about their success; yet they could not have foreseen how popular the space would become. It's a balancing act to keep a thriving arts/artisan community alive. Granville Island maintains rents below market rates to give artists and craftsmen a place to make a living while working to keep the entire operation financially self-sustaining. Like any business in the city, Granville Island face costs that are always increasing – repairing aging infrastructure, rising taxes, more costly utilities.
The Public Market is a perfect example of careful business planning. Vendors are selected – sometimes recruited – to keep the mix balanced and to ensure that the Market consists of small businesses offering local or handmade products. Large companies, chains or franchises, and businesses with out of town owners are not welcome. Product lines are strictly managed. For example, some bakeries can sell certain kinds of bread while others can't, following restrictions that are actually built into the businesses' leases. Recently, when a fresh poultry vendor moved out of the Market, a new one – Jackson Poultry – was selected and actively recruited to take its place.
On the other hand, Terra Breads first started in the Market and has grown to 4 locations in the city. Would they have been accepted as vendors in today's market? Probably not, but no vendor is asked to leave because they are successful. Ono considers Terra Breads to be a Public Market success story.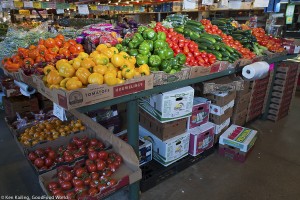 To allow new vendors the opportunity to "grow into" the Market, there is a "day vendor market" that offers tables and carts throughout Granville Island. About 80 vendors rotate use of the spaces. The day vendors also have the opportunity to move into a space when one becomes available.
In the early 1990s a daily Farmers Market was added – the first contemporary Farmers Market in Vancouver. The Farmers Market is open from June until October to give farmers an opportunity to sell their produce directly to consumers. Granville Island does not charge a fee for the farmers – the spaces are offered as a service – and provides market coordination and a modest amount of marketing.
The Granville Island Public Market is clearly a local destination. About 70% of shoppers come from the city of Vancouver, another 15% come from the Vancouver metro area, and just 15% are from outside the area.
By combining careful product and vendor selection, skilled management, and a lovely public space, Granville Island and the Public Market have created a very strong sense of ownership among city residents. Other cities would do well to take a lesson from the visionaries that laid out the original plan 35 years ago.