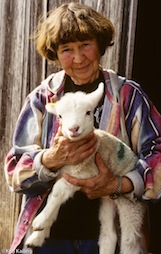 Lea McEvilly, Shepherdess
I am an avid reader, gardener, tree planter, bird watcher, conservationist, some time poet, mentor, erstwhile shepherdess, and a passionate lover of animals, just causes, and the good earth!
Or, one could say:  I am a writer who asks the question, "Can this refugee from the cities find success and happiness as a shepherd in the hill country of SE  MN?" While living the sheltered life as the wife of a wealthy and titled Englishman? Oh, sorry, that last part never happened.
Just a few of Lea's many accomplishments:
Was the first woman to win the "Silver Bell Award" presented by the University of Minnesota, North Central Wool Marketing, and Minnesota Lamb and Wool Producers (1981)


.

Won a $12,000 competitive grant from the Sustainable Agriculture Division, Minnesota Department of Agriculture to develop and demonstrate a rotational grazing system.


.

Served as the first Secretary/Treasurer of the newly formed Southeast Minnesota Sheep Producers Association and organized a TeleAuction where  members could sell their lambs to buyers all over the U.S., rather than being held captive by the meatpackers in South St. Paul and Albert Lea, MN, whose prices each sale topped by as much as $5 per hundredweight.


.

Gathered a small group of sheep producers in the Caledonia, LaCrescent, Houston, Mabel area together, and for 3 years served Lamb Dinners to over 200 persons every year in an effort to introduce more people to the wonderful taste of lamb.  Tickets were a sell out each year, and the lamb was donated by the President of Iowa Lamb to help promote lamb.
Here is a link to Lea's GoodFood World articles and commentary.