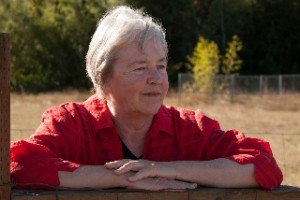 Susan Clark is a writer/photographer living on a farm near Canby, Oregon, and she has published more than 100 articles and columns in the Oregonian, the Capital Press, Small Farm Journal, Permaculture Activist, etc. She has been a regular columns and contributor to Writers on the Rise, Touch the Soil and In Good Tilth. Susan is a spinner of wool from her own sheep and others.

My primary writing focus is sustainability. I began writing about organic farming when I was actively farming. My writing expanded as my interest in and concerns about sustainability led me to explore innovative approaches to developing local food systems and related management, health, and regulatory issues.
Visit Susan's blog where she writes about cultural change and positive action.
Here is a link to Susan's GoodFood World articles and commentary.