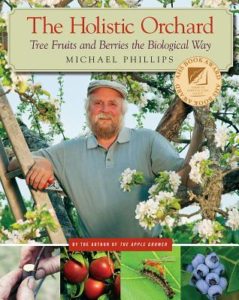 Many people want to grow fruit on a small scale but lack the insight to be successful orchardists. As The Holistic Orchard illustrates, growing tree fruits and berries is something virtually anyone can do. A holistic grower knows that producing fruit is not about manipulating nature but more importantly, fostering nature.
All along the way, Phillips' expertise and enthusiasm for healthy growing shines through, as does his ability to put the usual horticultural facts into an integrated ecology perspective. With The Holistic Orchard in your hand you have every reason in the world to confidently plant that very first–or next–fruit tree!
Price: $20, Free Shipping, Used – Like New
Contact GoodFood World to buy this book.