It's nearly three years since Carlos and Sonia (Mendoza) Cervantes bought Mendoza's Mexican Mercado on Seattle's busy Aurora Avenue. And it was just about 18 months ago when we stopped in to meet them, explore their market, and take home some new ingredients to cook with. In early November, we returned to find out how the business is doing.
Keeping the store open 70+ hours a week means 12-hour days for the couple, and the work is hard. So hard that Sonia and Carlos are exhausted when they finally lock the shop doors and head home. Still they are proud to offer "the taste of Mexico" to Seattle and appreciative of the many good things their customers have to say about them.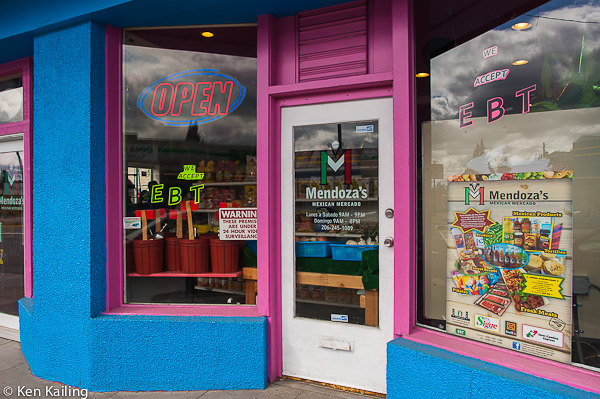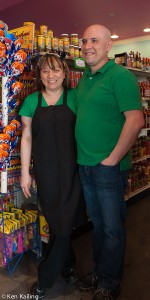 Mendoza's "Secret Ingredient"
In a city where conventional supermarkets and specialty markets like Whole Foods and PCC abound, what makes Mendoza's Mercado so special? It's not the special vegetables and greens and it's not the spices and ingredients from Mexico, Cuba, Argentina, Central America, Peru, and Nicaragua, and it's not even the corn flour (masa harina) and other grains on the shelves.
Mendoza's Mercado is special because of the way Sonia prepares carnitas, enchiladas, taquitos, frijoles, and handmade tortillas and sopas from family recipes that her mother and grandmother used. And for special holidays Sonia always cooks or bakes something like "me abuela hizo" – "My grandmother made…"
For the Dia de los Muertos (Day of the Dead) – known also as All Saints Day – celebrated November 2, Sonia made Pan de Muerto or Bread of the Dead. These sweet bun-like bread rolls are decorated with pieces shaped like bones. Mendoza's Pan de Muerto was so successful this year that teachers came from all over the city to buy them to take to class and show their students.
And for Les Posadas – a nine-day celebration that begins December 16 and ends on Christmas Eve – Carlos and Sonia supply everything needed from the piñatas that the children enjoy, to stuffed pork loins for family dinners, to the traditional Christmas ponce (punch) made with fresh and dried fruit, tamarind, and tequila for the adults. Actually, Mendoza's offers ponce without alcohol, the tequila will have to come from another shop.
A Small Business' Biggest Challenges
Starting a small business in Washington, particularly Seattle, is not particularly onerous, in fact, according to a recent small business survey* the city got top marks for ease of starting a business and ease of hiring. The marks were not so high for regulations, health and safety, tax code, licensing, and zoning.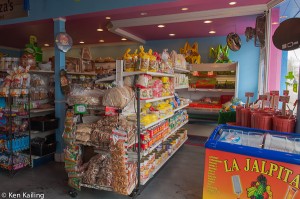 Running a small business, particularly a food business, in Seattle requires persistence and flexibility. For example a business like Sonia and Carlos have requires State and Federal registration, a city business license, external sign permits, and a City of Seattle Food Service Permit. The Cervantes also have to pay city, county, and state sales tax on taxable items as well as Seattle B&O (business and operations)/Excise taxes on the shop's gross revenues.
The business is too small to have employees, but if they did have staff that would mean more taxes including state and federal unemployment taxes and the employers' matching contribution to FICA (Social Security and Medicare taxes).
And to add insult to injury, the City turned the on-street parking lane in front of Mendoza's into a part-time bus-only lane in September this year. That means no on-street parking for shoppers between 3 and 7 PM weekdays; parking that is critical for someone wanting to pick up something fast on the way home from work.
Advice – Asked and Offered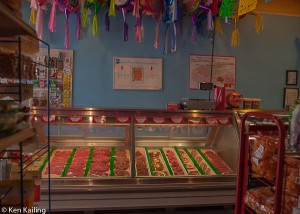 What advice would Carlos have found most helpful when he and Sonia started? He believes a more careful study of the city demography would have encouraged them to look in another neighborhood. "We are in an area without many apartments, but a lot of single family homes," said Carlos. "Stores that grow fastest have lots of apartments around them, lots of shoppers in a close range."
And although Seattle has nearly 30,000 Hispanic residents, the neighborhoods with the highest populations are located in the north and the far south of the city.
While Mendoza's Mercado serves both the Hispanic community and Anglo shoppers, each group buys differently. Hispanic buyers are shopping for every day cooking, while Anglo shoppers come in for specialty cooking. "They bring a recipe and buy 2 chilies, 1 tomato, a little cheese…"
For anyone considering launching a similar business, Carlos says, "I wish we had studied the zone where we're located more carefully. We should have looked at how many people live around us, how many apartments and homes, what kind of food they would want." Would he have located the store where it is had he done such a study? "We might not have settled here, but we're doing the best we can with what we have."
What Does the Future Look Like?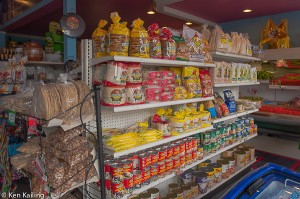 Despite the competition, the economy, and pressure from supermarket chains, small businesses like Mendoza's Mercado continue to open – some to struggle, some to flourish. Carlos and Sonia are passionate, willing to work hard, and believe that what they are doing is special. They truly want to give their community the taste of home, food "me abuela hizo" and they'll keep opening the door, smiling, and cooking as long as they can.
Today, the retail food industry has evolved into an oligarchy where 4-6 supermarkets capture 60-70% of sales in a geographic market, and five supermarket chains sell more than 40% of all groceries nationwide. We must nurture and protect our mom-and-pop (or mamá y papá) shops and markets, to ensure the diversity of our neighborhoods, and to keep businesses like Mendoza's Mexican Mercado open and succeeding.
Have you shopped at a small business in your neighborhood today? When you do, say "Hello" to the man or woman behind the counter, give them a big smile, and come back again – soon and often.
Mendoza's Mexican Mercado
7811 Aurora Ave N
Seattle, WA 98103
(206) 245-1089
Hours: Monday-Saturday 8:00AM to 8:30PM, Sundays 9:00AM to 7:30PM
More to Read
Food Like "Mi Abuela" Made – Mendoza's Mexican Mercado
*Seattle – Small Business Friendliness