If you didn't notice, there are more and more products labeled "Gluten-Free" on grocery shelves today. So many that some people think this is the latest food fad. It's not! For people with Celiac disease, eating foods containing gluten can be fatal, and for those with gluten allergies, life can be pretty uncomfortable. More than 2 million people in the US – 1 in 133 – have this genetic disorder, according to the US Department of Health and Human Services.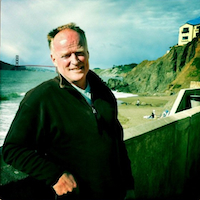 When Jim Collins' 5 year-old-niece, Tracy, was diagnosed with Celiac, she was literally starving to death in spite of all the good food her parents fed her. Consumption of gluten by someone with this disease can damage the intestinal system so completely that most nutrients cannot be absorbed and malnutrition – and ultimately starvation – results.
Somebody had to do something!
Jim is now CEO of Maninis®, a family business he started with his sister, Donna Collins, who is Maninis' Vice President of Sales and Marketing. All members of the Collins family are either gluten intolerant or have Celiac disease, which is not unusual since people with an immediate family member – parent, sibling or child – diagnosed with Celiac have a 1 in 22 chance of having the disease too.
Gluten-free diets have been hard for both the Celiac sufferer and the parent or spouse trying to prepare good food for them. The first step is to eliminate all foods containing gluten. That means no wheat, rye, or barley; in other words, avoid most grain, pasta, cereal, and processed foods.
What's left? Cookies that taste like sawdust, muffins with the consistency of hockey pucks, and bread bricks with the texture of heavy, wet pound cake have been common fare.
That simply wouldn't do. Over the last 10 years since Tracy was diagnosed, Maninis has came to life and gluten-free now means good tasting and good for you.
"What was available was ghastly: poor taste, poor texture, poor nutrition. It has definitely improved today. There are more products available and some are really good," says Jim. "Bakers are finally getting into ancient grains and putting them into good use."
To look at Collins, you know he's conscious of his diet! He's an outdoorsman: a mountaineer and whitewater kayaker. After more than 25 years as a general contractor, most recently focused on residential energy optimization, Jim has turned his passion and business skills to build Maninis into a successful operation. And now, after a year and a half at the helm, he and his family have strengthened the company and it is poised for success.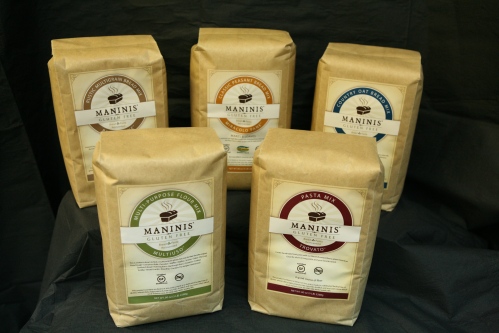 A quality product requires quality ingredients. Collins is using as many organic products as possible, and most of the grains come from suppliers in the Upper Midwest. Maninis' largest supplier is in North Dakota. All grains are milled fresh to order and the ingredients are then processed in a certified gluten-free facility in Richland, Washington, where the blending and packaging takes place.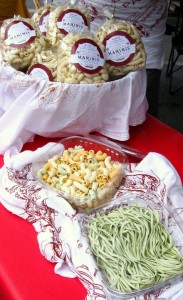 By sourcing organic products, Jim avoids the chemical residue that may remain on grains that are conventionally sprayed with herbicide to "desiccate" (read: kill) them for harvest or fungicide to keep them from mold or mildew in storage. Grains cannot be washed to remove any chemicals before milling.
Maninis mixes do not include rice flour and no genetically engineered products – no GMOs. Jim and his family have brought together a special selection of ancient grains to add unique flavors and textures. Very few bakers have explored grains like millet, teff, sorghum, quinoa, amaranth, and flax. "We are always looking for people who are growing different grains; we would love to see what we can make from them," says Collins. "We want to make products that are unique, healthy, and delicious."
What can you make with Maninis mixes? Some of the toughest challenges for a cook or baker of gluten-free dishes are pasta and pizza dough. Who knew that they could be so easy and so yummy? Now the entire family can eat together and no one feels left out or short-changed.
Exactly how good are Maninis products? Fresh pasta made with Maninis Travato Pasta Mix is now being served at Italian restaurants throughout the Seattle area. Sufferers of Celiac and gluten intolerance can enjoy traditional Italian dishes without risk.
You can buy Maninis mixes on their website or at Whole Foods Markets and other groceries in Puget Sound.