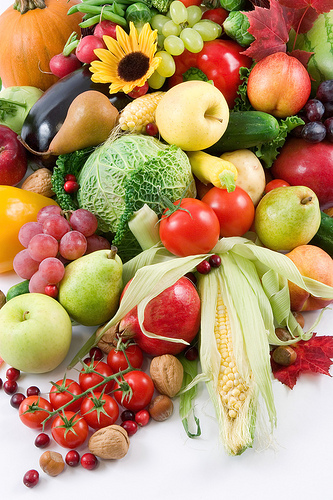 When I was a child we really did get milk and graham crackers, but the fruit and vegetable selection was pretty dismal. Applesauce and corn relish seem to stick in my mind after all these years. The USDA's Fresh Fruit and Vegetable Program is a great program to help ensure that all children have access to good food and are given healthy choices. Two thumbs up for good food!
We received the following announcement from the USDA:
Agriculture Secretary Tom Vilsack announced that USDA will expand assistance to state agencies for schools operating USDA's Fresh Fruit and Vegetable Program (FFVP) in the 2011/2012 school year.  The investment is part of the Obama administration's efforts to improve the health of our children by providing access to nutritious meals in schools and also serves as a valuable resource to schools that continue working to improve the health and nutrition of the foods they serve. The assistance will provide free fresh fruit and vegetables to children throughout the school day.
"Improving the health and nutrition of our kids is a national imperative and by providing schools with fresh fruits and vegetables that expand their healthy options, we are helping our kids to have a brighter, healthier future," said Vilsack. "Every time our kids eat a piece of fruit or a vegetable, they are learning healthy eating habits that can last a lifetime."
The Fresh Fruit and Vegetable Program, authorized and funded under Section 19 of the Richard B. Russell National School Lunch Act and expanded in recent years as a result of the Food, Conservation and Energy Act of 2008, operates in selected low-income elementary schools in the 50 States, the District of Columbia, Guam, Puerto Rico, and the Virgin Islands.  This year, USDA will provide $158 million in assistance to state agencies. States then select schools to participate based on criteria in the law, including the requirement that each student receives between $50 and $75 worth of fresh produce over the school year.
"The program is highly successful in introducing schoolchildren to a variety of produce they otherwise might not have the opportunity to try," said Kevin Concannon, USDA Under Secretary for Food, Nutrition and Consumer Services. "I am pleasantly surprised when children tell me it was their first time trying a particular fruit or vegetable.  Fortunately children are learning fruits and vegetables are healthy choices and tasty alternatives to snacks high in fat, sugar, or salt."
In January, USDA published a proposed rule to update the nutrition standards for meals served through the National School Lunch and School Breakfast programs as part of the Healthy, Hunger-Free Kids Act of 2010, signed into law by President Barack Obama. The proposed rule, based on the latest science, will make the first major improvement to the nutritional quality of school meals in 15 years, and is an important component of First Lady Michelle Obama's Let's Move! initiative to solve the challenge of childhood obesity within a generation.  The standards will significantly increase fruit and vegetables provided at lunch and for the first time, both fruits and vegetables will be served daily.
Depending on enrollment and the allotment spent on each child, USDA estimates the expanded assistance could help schools serve additional 600,000 to 950,000 students in school year 2011-2012.
Improving child nutrition is the focal point of the Healthy, Hunger-Free Kids Act signed by President Obama in December 2010.  The legislation authorizes USDA's child nutrition programs, including the National School Lunch, School Breakfast, Summer Food Service Program, and the Special Supplemental Nutrition Program for Women, Infants and Children. The Act allows USDA, for the first time in over 30 years, the chance to make real reforms to the school lunch and breakfast programs by improving the critical nutrition and hunger safety net for millions of children, and help a new generation win the future by having healthier lives. The Healthy, Hunger-Free Kids Act is the legislative centerpiece of First Lady Michelle Obama's Let's Move! Initiative to end childhood obesity in a generation.
USDA's Food and Nutrition Service (FNS) oversees the administration of 15 nutrition assistance programs, including the Fresh Fruit and Vegetable Program, that touch the lives of one in four Americans over the course of a year.  These programs work in concert to form a national safety net against hunger.  Visit www.fns.usda.gov for information about FNS and nutrition assistance programs.
Read the original announcement here.
Photo credit: www.themeetingplacenorth.co.uk, used with permission under Creative Commons license.