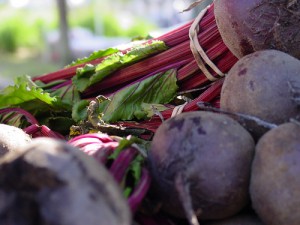 It may be our last chance to say "beet it" to genetically engineered (GE) sugar beets. The following is from the National Cooperative Grocers Association (NCGA).
The NCGA encourages consumers to voice their opinion on GE sugar beets to the U.S. Department of Agriculture (USDA) by Dec. 6 though the USDA's public commenting period on the issue.
In August 2010, the U.S. District Court officially "vacated" USDA's "deregulation" of GE Beets, making any future planting and sale unlawful until USDA complies with federal law and completes an Environmental Impact Statement (EIS). An earlier USDA ruling violated the National Environmental Policy Act (NEPA) by approving the Monsanto-engineered biotech crop without first preparing an EIS. Recently, however, USDA released a plan suggesting farmers be allowed to plant GE sugar beets in 2011, before the EIS is completed.
USDA is offering a period of public comment on its proposal through Dec. 6. Comments can be submitted directly to USDA or through the Center for Food Safety's website.
GE Sugar Beet Concerns
Sugar beets are genetically engineered to withstand large amounts of the herbicide glyphosate. Concerns with GE sugar beets include potential negative health effects on consumers and the environment, as well as contamination of the nation's non-GE sugar beets (which could threaten the livelihood of organic farmers and undermine the integrity of the USDA organic label).
The U.S. is one of the world's largest sugar producers and sugar beets grown in the U.S. account for about 55% of our sugar production. As a result of USDA's prior unlawful approval of GE sugar beets, 95% of all sugar beets planted in the U.S. last year were genetically engineered. This means the majority of sweeteners in the United States are GE products. (High-fructose corn syrup, made primarily from GE corn, is the leading sweetener with sugar a not-too-distant second.)
"Consumers deserve the right to choose what they eat and that includes the right to eat non-genetically engineered food," states Robynn Shrader, chief executive officer for NCGA. "Since the USDA does not require manufacturers to label their foods as containing GE ingredients, keeping GE foods from further penetrating our food supply becomes even more critical. Consumers have the opportunity to tell USDA that they want to take GE beets out of our food supply."
NCGA along with consumer and environmental groups continues to advocate for preventing deregulation of GE beets and for labeling of any GE products. Consumers can submit comments to the USDA through the regulations.gov website or through the Center for Food Safety's website.
About National Cooperative Grocers Association
National Cooperative Grocers Association (NCGA), founded in 1999, is a business services cooperative for consumer-owned food co-ops located throughout the United States. NCGA is owned by 114 food co-ops operating nearly 150 stores in 32 states with combined annual sales of over $1.2 billion. NCGA helps unify natural food co-ops in order to optimize operational and marketing resources, strengthen purchasing power, and ultimately offer more value to natural food co-op shoppers everywhere. Additionally, NCGA is a winner of the dotCoop Global Awards for Cooperative Excellence in recognition of the application of cooperative values and principles to drive cooperative and business success. For a map of co-op member locations, visit www.ncga.coop.
Photo credit: larryjh1234 used with permission under Creative Commons license.